Which Forex Broker Should I Use?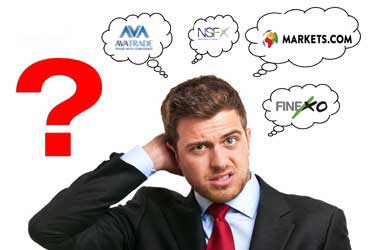 There are now hundreds of different Forex Brokers and each one will of course be actively getting you to sign up to their respective sites. In fact the way many Forex Brokers will try and get you to sign up to their Brokerages is by offering you what could turn out to be a huge valued deposit match bonus which will become available to you once you sign up and make an initial deposit into their sites.
However, you should never let the size of any Forex Brokers initial sign up and welcome bonuses sway you in regards to signing up to their sites as opposed to signing up to another Brokers, for not all Forex Brokers are going to offer you a fully rounded trading experience.
In fact many traders have made the mistake of simply signing up to the fairest Forex Broker they come across that was offering the very highest new trader welcome deposit match bonus and then have regretted making that decision.
With that in mind the following guide is going to help you spot a first class Forex Broker that is going to be offering you everything you could ever want or need from such a site.
Questions and Answers
The easiest way for us to present to you the remainder of this Forex Broker guide is to present it as a questions and answer type of guide, and as such read of for you will find the information contained in this section very useful and helpful when it comes to you selecting a Forex Broker at which to sign up to.
Multi Currency Forex Brokers

One of the main aspects of choosing a Forex Broker that does need keeping in mind is that you will be looking for a Broker that will of course allow you to sign up based on where it is you live in the world, but also you will want to be able to fund your trading account in your own home currency.

By locating a Forex Broker that will offer multi currency options to their new traders when registering a new account you are then not going to be forced to pay currency exchange rate fees when you make a deposit into your Forex trading account nor will you lose out via currency exchange rate fees and charges when making a withdrawal either!

Bonus Awarding Forex Brokers

Locking in the best value is what every Forex trader will be looking to do on every single trade, or as many trades that they place as is possible. One way which you are going to be able to do just that is by making use of some of the plethora of different bonus offers that will be on offer to you.

With that in mind please take a good look through our individual Forex Broker reviews as by doing so you are then going to discover which Forex Broker is going to be offering you the best value and the highest valued bonus offers both as a first time trader at those Brokers and on an ongoing basis too.

What Banking Options will be available to me?

You are going to find that the easiest way to move money both into and out of any online or mobile Forex trading account will be by you using a debit card linked up to your bank account, as by using such a card all deposits will be made in real time and will reflect in your account instantly.

However, do keep in mind that if you would prefers not to use a debit card linked up to your bank account there are lots of different options that you can choose to use including credit cards, web wallets and even prepaid vouchers, so plenty of banking options will be available to you.

Accessing a Demo Trading Account

You are not going to know whether you actually like the design and service offered at any Forex Brokers until you actually test out those brokers trading platforms either online or via a mobile trading app, and with that in mind you should initially open up a demo trading account.

By opening up a demo trading account which by the way you can easily do in a matter of minutes at any of our feature Forex Brokers you can then test out their individual trading platforms and get a true feel for the way that they all work and operate but in a no risk trading environment.

Will Mobile Trading Apps Be Worth Utilizing?

The way in which all of our featured Forex Brokers have designed their mobile trading apps is such that no matter what types and kinds of Forex trade you are looking to place you are always going to find then being offered to you via those apps.

All of the different trades you can place via an online trading platform will be available to you via a trading app and you will of course have access to just as many bonus offers and promotional offers when using a Forex trading app as you will when using an online trading platform, so they are certainly worth utilizing.

Are There Any Additional Fees and Charges?

By looking over the trading platforms and making a note of the financial gains that can be make on every single trading opportunity available to you then when you place those trades you will not have to pay any additional fees and charges when you place those types of trades or when you have made a profits on them.

However, do keep in mind there may be some additional fees and charges that you will have to pay in regards to sign some banking options, however those charges are not usually levied upon you via the Forex Broker but by the operator of those banking options, such as when you using a web or e-wallet those companies will have some nominal fees and charges that you will have to pay for using their services.