Forex Trader Bonuses and Promotions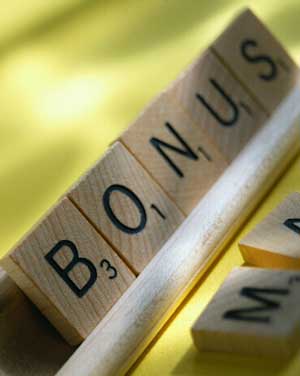 One aspect of you signing up to and becoming a trader at any of our featured Forex Brokers is that you are going to find that every single one of them will be offering you some form of incentive for joining up to their trading Forex Brokerages.
You can often massively increase any initial deposit you make by claiming a sign up or welcome bonuses, in fact many Brokers often offer all of their brand new traders a completely free of charge and therefore no risk type of welcome bonus.
However, there can be lots of additional ongoing promotional offers available to you when you concentrate all of your Forex trading to just one Broker and those promotional offers will be a Brokers way of rewarding your loyalty.
To help you understand just what types of Forex bonuses and promotional offer are available and whether they are worth claiming or not the following guide will be of interest to you and should allow you to quickly discover which are going to be the very best valued Forex trading bonuses and promotions to claim.
Forex Trader Bonuses and Promotions Questions and Answers
Have a look through the following question and answers section of this guide to Forex trader bonuses and promotions as the way we have designed in you will soon get a full and much greater understand of every single type of bonus and promotional offer that is going to be offered and made available to you at any Forex Broker.
What are No Deposit Bonuses?

A no deposit bonus if often going to be made available to you at lots of different Forex Brokers, and is it usually an initial incentive for you to sign up to those sites. When you register as a new trade the Broker will then and a certain amount of free credits to your account which you can then use to place a range of different trades.

Be aware though that you are going to have to place a certain volume of wagers with those free credits before you can cash out any gains and profits you make.

What are Forex Deposit Match Bonuses?

The best valued bonuses that will be made available it you are those which have been designed and have been structured as Forex trader deposit match bonuses. When you wish to make use of such a bonus you will be required to make a deposit into your trading account.

The Broker will then add a percentage of that deposit into your Forex trading account as bonus funds. You will then be required to place a certain level of trades and by doing so your bonus credits will then be turned into real money credits.

How Do I use a Bonus Code?

Some Forex Brokers will have a bonus code claiming system in place and when you wish to use and claim any of the bonuses they have available to you then you need to make a note of the unique bonus code attached to those bonus offers.

Once you log into the Brokers trading platform and have launched the banking interface you then need to enter that unique bonus code into that banking interface when you are making any required qualifying deposit. Once your deposit has been processed that bonus will then be instantly credited to your trading account.

How Do Risk Free Forex Traders Work?

To reward traders' loyalty and custom you are often going to find that many Forex Brokers will make available to you a range of what are known as risk free Forex trades, and these types of trades are very popular with traders.

How they work is very straight forward to understand, for you simply have to make a trade on the risk free options available to you and if those trades are winning ones then you will of course get paid out your profits, however if those trades are losing one's then the Broker will refund the amount of cash your staked on them.

How Can I get More Forex Bonuses?

When you first sign up to any Forex Broker you will be given a range of different trading accounts that you can open, you are going to be best off selecting an account that will give you access to your own personal trading account Manager.

That Manger is then going to be tasked with keeping you loyal to that Brokerage and as such it is they that you will often find are going to be offering you a range of ongoing promotional offers and bonuses, so keep in touch with your account Manager as he or she will be the person to contact when you are seeking out lots of additional bonuses and promotional offers.

Am I forced to take Bonuses?

If you do not wish to utilize any of the bonuses that are on offer to you then you are of course under no obligation to make use of them. However, some Forex Brokers will instantly credit to your trading accounts any bonuses you are entitled to when you make a deposit.

If you have been awarded a bonus and do not wish to use it then simply contact the Brokers support team and they will then be able to remove that bonus from your trading account. Just make sure that you contact them to get the bonus removed from your account before you start placing any trades with your account balance.

Are All Bonuses Worth Claiming?

One final thing to keep in mind is that it will be the terms and conditions of all Forex Broker trader bonuses that are going o determine the true value of those bonuses, and you will always have to place a certain amount of trades before bonus funds are turned into real money funds.

Whilst the vast majority of trader Forex bonuses are going to be worth claiming some may not be that valuable, and as such read through the terms and conditions to discover if any bonus is worth claiming or not.