Choosing a Binary Options Broker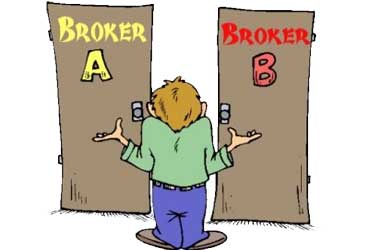 One of the most important decisions you are going to make as a Binary Options trader is of course just which Broker to join up to and place your real money trades at.
Be aware that there are hundreds of different Brokers available to you, and as such finding one that is going to offer you everything you are looking for and one that is going to offer you a fully rounded trading experience may take some time.
However, as we have fully researched all of the Broker listed and showcased and also fully reviewed on this website you are going to be best off researching those Brokers we have chosen to present to you as they are all at the top of their game and have a solid track record in giving trades an unsurpassed and first class trading experience.
Never just pick out a Binary Options Broker to sign up to, for you will find not all of them you will come across online operate to the highest standards that each of our featured Brokers do.
Questions and Answers
If you do fancy signing up to a Binary Options Broker and wish to start placing trades online or on a mobile trading platform then the follow questions and answers section of this guide will be worth reading through. As below you will find the answers to the most commonly asked questions asked by traders regards to what they should be demanding from any Broker they are thinking of signing up to.
What Country Restrictions are in Place?

One very important thing to note is that not all Binary Options Brokers are going to be able to accept traders from every single country of the world. It is with that in mind you should always ensure that the Broker or Brokers that you are thinking of signing up to and registering an account at is going to welcome traders based in your country of residence.

What banking Options are Available?

You will need to ensure that the Broker you are thinking of joining is going to be offering a wide and diverse range of different banking options. For you will often find that there can be fees and charges attached to some of the many different banking options available and as such you need to use one that is never going to see you being hit with additional fees or charges when topping up your account balance.

Can I Deposit in My Own Currency?

You will find that many of our featured Brokers are going to allow you to select one of several different currencies when you sign up to their sites, and as such you should always ensure you set your trading account to use a currency option that you tend to use the most as you will then not have to pay any Forex related fees when making a deposit or making a withdrawal.

Should I Sign Up to Unlicensed Brokers?

You will find more than enough fully licensed and regulated Binary Options Brokers are available to you and you should never be tempted to sign up to a Broker that is not licensed or regulated, for by doing so you will run the very real risk of experiencing all manner of problems which you may never get a satisfactory outcome of. So always stick to fully licensed Brokers of which all of our featured ones are.

Are Sign Up Bonuses Worth Claiming?

The fine print of any Broker bonus is where you are going o find out whether any trader bonus being offered to you is going to be worth claiming or not. You should be ideally looking or the bonus offers that will see you being able to claim a high percentage of your deposited amount as bonus funds whilst also looking out for bonuses that require you to only place a small volume of trades to turn the bonus funds into real money funds.

Should I Open a Demo Trading Account?

You are always going to be best advised to initially open a demo trading account at any Brokers you are thinking of placing real money trades at. By doing so you can then see firsthand by using that demo trading account whether the platform is as easy to use as you have hoped it would be plus you will also be able to see just what trading opportunities are available to you at that Brokers.

Will I Find Mobile Platforms Easy to Use?

You are probably going to find the mobile Binary Options Broker trading platforms and apps much easier to use that the online trading platforms. That is down to the fact that you simply need to tap your mobile devices screen to place your trades as opposed to having to move your mouse here there and everywhere when utilizing an online Binary Options Brokers trading platform.

Which Brokers Offer the Most Trading Opportunities?

As all of our featured Brokers are going to offer you the very highest number of trading opportunities no matter when you log into their trading platforms you will find those we have showcased to you throughout this website offer more than enough trading opportunities and as such should be the sites you sign up to and trade at.

What Fees Will I be charged?

There may be some fees attached to some of the banking options you can use at most Binary Options Brokers and be aware that some Broker may charge you for making withdrawals, so always check thorough the respective banking information pages at each Broker for details of additional fees and charges.

What Gains Can I Expect?

The amount of cash you can make when placing real money Binary Options trades online or via a mobile trading platform can be varied, and as such we would suggest you spend a little time looking through our reviews of the leading Brokers, as that is where you will find information as to how much you can make on each trade your place.