Touch or No Touch Binary Options Trades and Strategies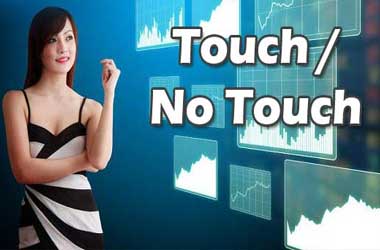 One of the decisions you will of course have to make when you are a Binary Options trader will be just what type of trades you place. There are several different trades available and many of the most successful traders will use a series of different trades in the hope they can make continuous profits over the long term.
You will find that some trades may call for you to place a long term investment on them in the hope that over time the share prices of the companies you have selected or the price of the commodity will fall or rise as you predicted.
However, with news stories and financial data that is released by companies and countries always having an instant effect of many trading opportunities some much shorter term trades may be called for.
There is a type of trading opportunity known as a One Touch trade and unlike a long term trade where you will only find out when you have made a profit one those trades expiries a One Touch trade works in a completely different way.
By placing a One Touch trade that trade is going to end when the value of whatever it is you are basing the trade on touches one of the two different values as found on the trading platform. So if you think a trading opportunity will increase in value, then as soon as it touches on of the indicated value that trade will end and close.
Frequently Asked Questions
How Can I Test Our One Touch Trades?

One of the easiest ways that you can experience placing One Touch Binary Options trades, and do so in a no risk trading environment will be for you to open up a demo trading account at one of our featured Brokers.

In fact by doing so you will not only be restricted to placing demo One Touch trades but you can place any type of trade available, which will of course allow you to see which ones appeal to you the most.

Which Brokers Offer One Touch Trades?

You will find that all of our featured Binary Options Brokers are going to allow you to place any type of trade you can think off! So if you do fancy placing several of these types of trades either in a free demo trade environment or for real money then feel free to sign up to any of our top rated Brokers as all of them are going to allow you to place One Touch trades via their respective trading platforms.

What is he Expiry Time for One Touch Trades

There is no set in stone expiry time for a One Touch trade, and with that in mind you should consider whether they are the type of trades you are interested in placing.

It will be at the moment in time that your chosen trading opportunity reach either the low or high value as indicated when you place the trade that is going to determine when the trade expires.

Are One Touch Trades Available on a Mobile Platform?

We are always being asked if there are going to be any compromises Binary Options traders are going to have to make when they opt to use a mobile device as the way that they place their trades.

Well, one of the main reasons we have chosen to showcase to you all of the Brokers listed throughout our website is that they offer both online and mobile trading platforms, on which you will be able to place exactly the same number and type of trades. So you will be able to place One Touch trades on any type of mobile device when accessing any of our approved Binary Options Brokers mobile trading platforms.

Can I Place Multiple One Touch Trades?

As long as the Broker who you have signed up to and whose trading platform you are logged into has One Touch trades listed then you are going to be able to place as many or as few of those types of trades as you like.

So if you are the type of trader who has a trading strategy calls for you to have several active and open trades in place then these are certainly trades worth considering utilizing.