A Straddle Strategy Guide for Binary Options Traders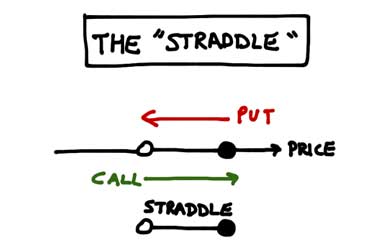 A Straddle Option is one whereby a trader is going to be placing two separate trades but on the same trading opportunity. So for example if you are placing a trade on a company's share value to increase you will also be placing an additional trade on the value of that company's shares decreasing too.
You may be wondering how it is possible to actually make a profit by placing two different opposite trades on the very same trading opportunity, however you will find that there are occasionally times when such a thing is possible and we shall explain how.
As each Broker is going to be offering their traders a range of promotional offers those offers are paramount to you being able to lock in a profit when using a Straddle trading strategy. The most commonly used promotion offered to traders which are used on Straddle strategies are no risk Binary options trades.
These types of promotions will see a trader being able to place a trade but if that trade is not a winning one then the Broker pays back the invested amount on that trade.
Therefore if you find you are offered a no risk trade from two different Brokers then by placing opposite trades at each of those two Brokers one will see you ending that trade in profit, and the other trade will see you getting your money back from that trade.
Frequently Asked Questions
Are Profit Guaranteed?

Be aware that you are going to have to fully master the art of placing trades on both side of any single opportunity offered to you at a Binary Options Broker before you can lock in guaranteed trading profits.

Not every opportunity will enable you to back both sides of a trade and make a profits, however if you put in the time and effort required they will appear and become available to you.

Can I Configure a Trading Platform to Straddle?

The vast majority of trading platforms available to traders from our featured Brokers are going to allow you to program into those trading platforms your own unique trading strategies.

By doing so the platform will then place your trades for you at the exact time you want them to be placed and that will eradicate any possibility of you missing out on a Straddle trading opportunity. Just make sure you master the art of programming your strategies perfectly into the trading platforms.

Will All Brokers Let Me Place Trades on Both Sides?

It doesn't matter what type of Binary Options trade you wish to place or how many trades you want to place all of our featured Binary options Brokers are going to allow you to place as many different trades as you like.

You can of course opt to place a trade on which you are covering both sides of the trade at one single Broker, however you will often find you get much better value and a higher profit return when you shop around and take the best prices on either side of a trading opportunity.

Can I Use a Straddle Trading Strategy on a Mobile Platform?

You are never going to find you have to make any type of comprise nor will you have to make do with a much smaller number of trading opportunities and trade types when you are accessing a trading platform via a cell or mobile phone or in fact any type of tablet device.

With that in mind please do download a trading app or access any of our approved Brokers mobile web compatible trading platforms as by doing so you will be able to place any type of trade you like instantly which is what everyone using a Straddle trading strategies should be looking to do.

Is a Straddle Trading Strategy Easy to Learn?

The only way you are going to find out whether a Straddle trading strategy is going to be suitable to the way you prefer placing Binary Options online or via a mobile device will be to test them out yourself.

The best way you can do that initially will be to utilize a demo trading account as by doing so you can put this trading strategy into action but will not be risking any of your own real money trading funds doing so.