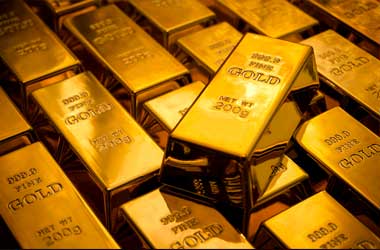 Investors are returning to the safe haven of gold as U.S. President Donald Trump's policies threaten stability in markets worldwide, resulting in increased volatility.
Spot gold prices went up by 1.6 percent reaching $1,214.19 an ounce earlier this week while gold futures posted their highest ever monthly gain since June last year.
In particular, the shock immigration ban of nationals from six countries and the ensuing chaos has renewed interest in gold as a safe haven investment among investors.
In a statement Phil Streible, a senior market strategist at brokerage RJO Futures said,
There's a lot of uncertainty and a lot of backlash over recent administration policies and that's causing uncertainty in the market, and then all of a sudden the gold market has come back to life. The Fed may be slightly more cautious. It's one thing to bring back jobs, but it's another thing to cause protests and instability.
Several analysts feel that the U.S. Federal Reserve may choose to be more cautious given the fears that Trump's policies might dampen growth. Jeffrey Halley, a senior market analyst at Oanda Corp. pointed out that there was widespread uncertainty in markets since Trump has become possibly the first political leader in recent times to implement all the electoral promises made regardless of consequences.
CNNMoney
Not withstanding the current resurgence, gold had actually not been performing well since Trump's election in November. Trump's administration have been expected to implement policies that are likely to boost economic growth and strengthen the dollar, resulting in gold losing favour. Its prices are down by 5.5 percent since the election and have dropped by around 10.5 percent in the last six months.
However many fund managers in U.S. have now decided to bet on gold, citing the rising uncertainty triggered by the administration's contentious decisions. Among those of the belief that gold will benefit are fund managers from Fidelity, Ridgeworth and IVA,
Other portfolio managers consider the rising possibility of higher inflation in the country as a reason to shift to gold. Richard Bernstein, whose handles $3.6 billion as head of Richard Bernstein Advisors said that escalating wages in the country is likely to drive up inflation in which case holding real assets like gold was a better bet.
Several mutual fund managers are also reacting similarly. David Einhorn from the asset management company Greenlight Capital has pointed out that since Trump possibly doesn't hold any core policy tenets there was higher potential for uncertainty in both political and economic arenas, making gold a safe bet.