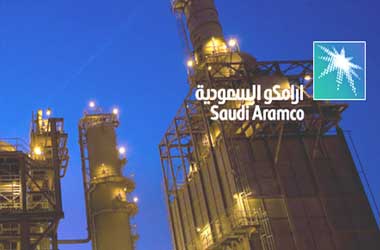 Saudi Aramco recently issued its first bonds and the response has been staggering. The state-run oil giant has witnessed massive demand for its bonds which has boosted its value to over $30 billion, according to Saudi Energy Minister Khalid al-Falih. This is three times more than the expected bond size as Aramco's initial plan was to only issue around $10 billion in its debt sale that is scheduled to take place this week.

Many investors are interested in buying into the world's largest oil company so it is expected that the bonds will match those issued by the world's independent oil producers like Shell and Exxon.
The current $30 billion is just the beginning as experts indicate that they expect it to balloon to $45 to $50 billion.

CNBC International TV
The high demand is because the bond is expected to have several maturation dates. This ranges from three, five, 10, and 30 years. Their value will range from $10 billion to $15 billion. With the high diversity of investments, investors have many choices which is why the demand is so high from around investors around the world. Emerging market buyers and investment-grade buyers are very eager to get a piece of that action.

For example, the three to five years offerings will be very attractive to local investors and Asians. On the other hand, U.S and Taiwanese investors who are taking the long view will love the 30-year offerings.

According to experts, this bond issue will be a litmus test for Aramco going public with an initial public offering (IPO) in 2021. Besides this, the money will also be used to fund the down payment for the company's majority stake purchase of Saudi Basic Industries from Saudi Arabia's Public Investment Fund (PIF). The deal had Aramco promising $69.1 billion for the purchase, with the contract expected to be finalized within six months or latest by 2020.

The PIF will be using the money earned from the purchase to create new jobs and help the Saudi economy go beyond its dependence on oil.

Solid Track Record

Aramco has a solid record of being one of the world's best companies. It recently received high credit ratings from both Fitch and Moody's, the first time ever the company submitted to being rated. This was after a banner year of earnings that beat a lot of the other major oil producers.

Plus, the bonds that Saudi Arabia has been issuing lately have been very successful. The country recently issued $7.5 billion in sovereign bonds in January. This brought in $27 billion in orders, thanks to the high ratings from Moody's and Fitch, which gave investors the assurance of low risk and high reliability in payments