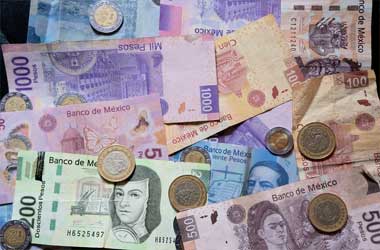 The sharp fall in the price of crude oil and the comments made by Fed officials took a toll on the Latin American currencies, including the Mexican Peso on Wednesday.
The USDMXN currency pair rose from 17.1611 to 17.8379 in two days.
However, a look at the Mexican economy would reveal that the strengthening of the US dollar was only because of a spontaneous reaction of the market participants for the new announcements and the currency pair is well set for a gradual decline.
The US dollar strengthened against the Mexican Peso for two reasons. Firstly, the price of crude oil declined 2.5% to $44.8 per barrel on the NYMEX (New York Mercantile Exchange). Mexico, the fifteenth largest economy in the world, derives 6% of its revenue from oil exports. Thus, a decline in the price of crude weakened the Mexican Peso. Secondly, the statement made by Fed officials regarding the possibility of an interest rate hike spurred the US dollar against all the major currencies, including the Peso. Last Friday, the Dallas Fed President Kaplan stated that he will support an interest hike, if the second quarter economic data is encouraging.
CCTV America
On Tuesday, San Francisco Fed President John Williams and Atlanta Fed President Dennis Lockhart also confirmed their support for a rate hike, probably in June, if the economic data are conducive. The announcement strengthened the US dollar against the Mexican Peso.
However, it should be noted that the price movement is more speculative rather than based on fundamentals. The Mexican economy remained resilient last year. The GDP of Mexico grew 2.5%. The Mexican Central bank (Banxico) anticipates the GDP to grow at 2.7% in 2016. Furthermore, the GDP is expected to hit a 3% growth in 2017. Even though the Mexican Peso declined 12% last year, the inflation remained at 2.5%, which is less than the Banxico's target of 3%. The country's unemployment also touched an eight month low of 4% in November 2015.
Banxico also announced that it would repurchase government debt in accordance with the expectation of the market. For the debt repurchase, the Central bank is expected to make use of the US dollar gains in 2015. Such an action would support the strengthening of the Mexican Peso. Thus, fundamentally, the currency would remain range bound with bullish bias.
The sharp uptrend has taken the USDMXN currency pair near to the major resistance at 17.95. The RSI indicator is near the overbought region. Thus, it is imminent that the currency pair would decline back to the major support at 17.34 in the coming days.
So, a currency trader should take a short position in the USDMXN counter to benefit from the decline. The short entry can be made near the resistance. A stop loss ordershould be placed 200 pips above the major resistance. The profit should be booked near 17.40 levels, when the currency pair declines.