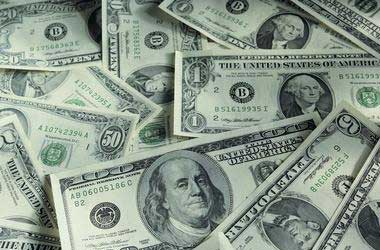 The US dollar index inched down 0.1% to roughly 92.30 on Friday, but recorded a weekly gain of 0.6%, reflecting the first consecutive weekly gains since May. The greenback recorded a 28 month low of 92.144 on August 31, but has bounced back over 1% from then onwards against the backdrop of increasing positivity about the US economic rebound.
The US budget deficit was $200 billion in August, comparable with the deficit in the similar month last year, but better than the market anticipations of a $245 billion deficit. Receipts declined to $223 billion from $228 billion a year earlier.
Including the August deficit, the overall year-to-date deficit was $3.007 trillion, which is roughly triple the $1.067 trillion deficit for the similar period last year. The deficit widened mainly due to an increase in government spending to support the economic slowdown triggered by Covid-19 pandemic.
The US consumer prices rose by 0.4% m-o-m in August, following a 0.6% increase in July and surpassed economists' expectations of 0.3%. Cost for used cars and trucks rose by 5.4%, the highest since March 1969 and provided the largest upward movement. While gasoline prices increased 2%, recreation costs increased 0.7%.
Shelter and household furnishings cost increased 0.1% and 0.9% respectively. It is the largest monthly rise since February 1991. After declining in July, food index increased 0.1% in August. On the contrary, prices for education declined 0.3%, the first decline ever as several schools shifted to remote learning due to pandemic. Barring food and energy, prices rose by 0.4%.
Annual inflation rate rose by 1.3% in August, from 1% in July, surpassing market outlook of 1.2%. It is the highest inflation rate since March 2020. Cost of used trucks and cars bounced back by 4% in August, compared with a decline of 0.9% in the earlier month. Prices for new vehicles increased at a faster rate of 0.7% compared with 0.5% in July. Energy cost declined 9%, after declining by 11.2% in July. On the contrary, price of medical care commodities increased at a lower rate of 0.8% in August, following an increase of 1.1% in the earlier month.
On m-o-m basis, consumer prices rose by 0.4%, beating estimates of 0.3%. A sharp increase in the used trucks and cars index was the biggest factor, but there was contribution from gasoline, recreation, shelter, and household furnishings as well. Barring volatile goods such as food and energy, annual core inflation inched up to 1.7% from 1.6%.