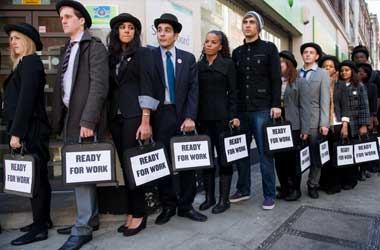 Latest U.S. Labor Department data has revealed that unemployment in the country has dropped to 4.4 percent its lowest level since 2007 indicating a strong rebound in the U.S. job market.
The numbers show that employers added around 211,000 jobs in April and the average per hour earnings climbed by 2.5 percent over the previous year to reach $26.19. The strong performance of the job market reiterates the overall strengthening seen in the U.S. economy. The job market in the U.S. has been expanding continuously for over 79 months now, playing a key role in the revival of the economy battered by the Great Recession.
In a statement Secretary of Labor Alexander Acosta said
This steady and sustained increase in job creation equals new paychecks for American workers and income for American families. Nonetheless, we have challenges ahead as we continue to focus on job growth, on bridging the skills gap and on expanding opportunity for all Americans.
CBS News
There had been concerns of a slip in the economic growth after the job market posted a disappointing result in March after unexpected high growth in February. Employers added only 79,000 jobs in March in part due to a snowstorm that affected economic activity.
Moreover the economy in March was recorded as expanding the slowest in three years on a same period basis. The slump was cited by the Federal Reserve in its decision to retain interest rates in its latest review. However the recent encouraging results are likely to prompt the Fed Reserve to resume its stated program of increasing the interest rate twice this year. Curt Long, chief economist at the National Association of Federally-Insured Credit Unions said that an interest rate hike in June was highly likely now.
Given these trends Industry experts believe that the U.S. economy was nearing the state of full employment. This means that while unemployment is not likely to go down further, sustained wage growth can be expected. However wage growth has been poorer than expected. Average hourly earnings went up by just 2.5 percent annualized, dropping from February and March figures.
Tara Sinclair, an economist at George Washington University said that such gains in the job market should have seen employers increase wages but that hasn't happened.
According to experts this is an indication of underlying issues persisting in the economy. Some experts believe that the low growth is due to gains in productivity being lower than expected. Jeremy Lawson, an economist at Standard Life Investment said that poor productivity weighed on growth and on living standards, and urged the Trump administration to implement policies to boost growth.