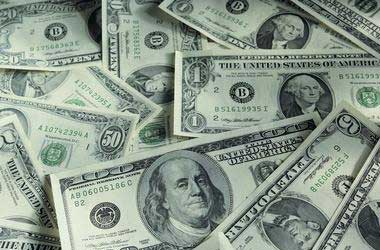 The US dollar fell against the pound despite the report of near 13-year high home sales in June. Notably, the private sector output growth hit five year high in the UK. The GBP/USD rose from a low of 1.2718 to a high of 1.2793. The US dollar index dropped 1.7% w-o-w to end at almost two-year low of 94.35 Friday.
It is the fifth consecutive week of decline and largest decrease in nearly four months as investors started believing that the US economic rebound will be a time consuming process as the Covid-19 pandemic in the US is yet to be controlled and some states have postponed easing lockdown restrictions.
Last month, sales of new single-family homes rose more than anticipated as the housing market eclipsed the broader economy against the backdrop of historically low interest rates and shifting from cities to low density regions because of Covid-19 pandemic.
The Commerce Department stated that new home sales increased 13.8% to an annual rate of 776,000 units in June. In May, new home sales were 682,000 units, upwardly revised from 676,000 units.
Economists had anticipated June new home sales of 700,000 units, reflecting an increase of 4% from prior month. On y-o-y basis new home sales grew 6.9% in June.
The 13-year high single-family home sales in June follow the news of jump in homebuilder confidence in July and a surge in sales of previously owned houses last month. Housing accounts for 3% of total US economy.
The Covid-19 pandemic has driven firms to permit employees to work from home, leading to a rise in demand for capacious homes in small towns and suburban area.
Commenting on the new home sales data, Michelle Meyer, chief US economist at Bank of America Securities in New York, said "Housing has a strong immune system. The shock disproportionately impacted the lower-income population who are less likely to be homeowners."
Furthermore, the labor market rebound seems to have halted, with the number of US citizens claiming jobless benefits increasing last week for the first time in almost four months. A mind-boggling 31.80 million people got unemployment checks earlier this month.
Job cuts have unduly impacted low-salaried workers, which could be the reason for the better performance of housing market in comparison with other sectors, which have fallen into recession in February.
A separate news report from IHS Markit indicates that flash US Composite PMI Output Index, which monitors manufacturing and services sectors, increased to 50 in July, from 47.90 in the prior month. The growth terminated five consecutive monthly decreases.
IHS Markit has pointed out that a handful of service providers were having a tough time with the reinforcement of lockdown actions. Notably, the flash composite new orders index dropped to 49.50 in July, from 49.90 in the earlier month.
The rising US-China tensions had a negative impact on the equity market Friday, with the dollar declining against a bouquet of currencies. The US Treasury prices also declined.
The 30-year fixed mortgage rate hit a 49-year low of 3.01%, as per data from mortgage finance agency Freddie Mac.
Commenting on the new home sales reading, James Knightley, chief international economist at ING in New York, said "This demographic is less likely to have been impacted by unemployment, will be more financially secure and have a better credit history versus younger members of the population who are more likely to work on lower wages in retail and hospitality. Older home buyers are also more likely to be looking for an investment property or a vacation home."
In the UK, private sector business activity rose at the quickest rate in five years in July as the relaxing of lock down prohibitions has allowed the economy to recover.
After recording record contraction in April, May and June, the UK economy recorded growth in July as increased demand from consumers and business clients gave way to a surge in sales and filling up of order books.
The IHS Markit flash UK Composite Output Index stood at 61 month high of 57.1 in July, compared with 47.70 in June.
Manufacturing production contributed to the growth in July, with the index skyrocketing to 59.80. However, output level, despite a rebound in production, continued to stay below pre-pandemic levels and fresh hiring remained weak.
Chris Williamson, chief business economist at IHS Markit, stated that weak jobs outlook also impacted the services sector, which represents roughly 75% of economic activity, with hospitality and tourism being worst hit sub-sectors.
According to Williamson, "subdued workloads and higher operating costs" contributed to an increase in job losses in July.
Several companies had complained that business operational costs have risen due to additional preventive measures taken to avoid the spread of Covid-19.
Williamson stated "The UK economy started the third quarter on a strong footing as business continued to reopen doors after the Covid-19 lockdown. The surge in business activity in July will fuel expectations that the economy will return to growth in the third quarter after having suffered the sharpest contraction in modern history during the second quarter. However, while the recession looks to have been brief, the scars are likely to be deep. Even with the July rebound there's a long way to go before the output lost to the pandemic is regained and, while businesses grew more optimistic about the year ahead, a V-shaped recovery is by no means assured."