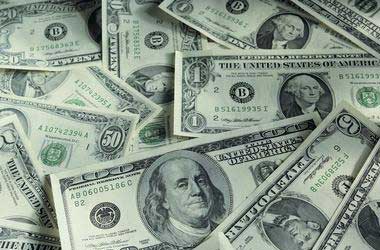 The US dollar strengthened against its main rivals on Monday, as an increase in coronavirus infections throughout the world boosted appetite for the safe-haven asset. The rise was also spurred by spectacular ADP non-farm job creation figures. Furthermore, increased treasury rates bolstered the greenback.
The seven-day moving average of Covid infections in the United States surpassed 400,000 on Sunday, as per sources, owing to the fast spread of the Omicron strain. On Sunday, President Joe Biden's senior medical advisor, Anthony Fauci, stated that the totally astonishing increase in cases might bring significant sickness in numerous un-vaccinated Americans.
Traders were waiting for the minutes of the US Fed's December meeting to be released. The minutes, which are likely published, may provide further information about the timeline of the central bank's first interest rate hike.
In today's economic headlines, the Commerce Department reported that US construction expenditure grew 0.4% in November, led by substantial advances in single-family home building. Nevertheless, public-sector spending was low.
While the damage from the Delta strain receded and Omicron's influence is still to be understood, private firms in the United States employed 807K people in December 2021, the highest in a span of seven months and over twice market estimates of 400K. It comes after a downwardly amended 505K increase in November. Hiring was diverse, with recreation and hospitality leading the way with 246K new employment.
Commerce, transportation, and utilities grew by 138,700, professional and business services grew by 130,700, and education and health services grew by 85,700. Manufacturing increased by 74K, while construction increased by 62K. Large businesses recorded the maximum recruitment of 389,000, followed by 214,000 job additions by mid-sized businesses. Small businesses added 204,000 jobs.
"December's employment gain increased the 4Q21 to 625,000, above the year's average of 514,000." While employment growth exceeded 6 million in 2021, private sector payrolls will still be approximately 4 million below pre-COVID-19 levels, according to Nela Richardson, ADP's senior economist.
Economists predicted a 0.60% increase in construction expenditure. In November, construction investment jumped 9.3% on y-o-y basis. Private construction spending increased 0.60% in November. Residential construction spending rose by 0.90%.
The dollar index, which had surged to 96.33, has now given up some of its advances to trade at 96.22, representing a 0.26 percent gain from the previous close. While writing this report, the dollar was trading at 1.1299 per euro, up from $1.1373. Likewise, the US dollar was trading at 1.3478 per pound sterling, an increase from $1.3528.
The dollar is now worth 115.35 yen versus the Japanese yen, an increase from 115.10. The dollar has also appreciated by over 1% versus the Australian dollar, trading at 0.7190. The Swiss franc is trading at 0.9189 per dollar, a decrease from 0.9123 Friday, while the Canadian dollar is trading at C$1.2747, down from C$1.2641.