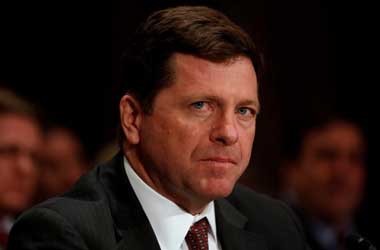 US Securities and Exchange Commission (SEC) Chairman Jay Clayton released a statement this week, warning everyone who are currently trading and interested in the exchange of initial coin offerings (ICOs) to exercise extreme caution when dealing with cryptocurrencies.
While cryptocurrency backers have talked about the security and reliability of digital currencies, Clayton warns about the risks of theft and loss of cryptocoins through scamming and hacking.
Earlier this month, the SEC froze the assets of a cryptocurrency startup offering PlexCoin, after they found that the company was unable to deliver on its promised returns and lied about its team of experts which apparently don't exist.
Wochit Business
The Anti-Fraud Centre in Canada revealed that as the price of Bitcoin soared this year, so did the number of cryptocurrency scams. Canadians have been swindled out of more than $1.7 million in cryptocoins via different scams and extortion methods in 2017. This is double the amount of fraudulent claims reported in 2016, and more than five times the amount of cryptocoins that Canadians lost in 2015.
Bitcoin, the most popular cryptocurrency in the world has shot up from $1,000 in Dec 2016 to over $17,000 in Dec 2017. This massive spike in value has caused great interest throughout the United States as investors want to get a piece of the action. This sudden interest has caused the SEC to issue a cautionary warning to Americans.
Clayton says that people should take the time to study their investment before proceeding. Some of the questions people should ask before jumping in the trend are: Is the product subject to regulation? Is the offering legal and are those offering it licensed to do so? Are the trading markets fair and secure?
Clayton provided some answers to these questions in his statement published in the SEC website. First, he warned people that currently, no ICOs are registered with the SEC. He also emphasized that cryptocoins trade on markets that may run on systems outside the US border. Because of this, the SEC may not be able to go after bad actors or recover funds if it's outside US jurisdiction.
The statement also warns against tokens who are pretending to be utility tokens but are actually securities. Shortly after publishing the warning, the SEC blocked a company called Munchee from launching an ICO to raise funds for a new food review services based on blockchain technology.
Munchee wanted to put up a $15-million capital campaign to improve its existing iPhone app, which would not only allow users to read and submit food reviews, but also offer a platform for people to buy and sell goods and services using their tokens. According to the SEC, the token being offered by Munchee has become a security, which would require them to register with the regulator. Munchee has since withdrawn their offering to avoid facing a penalty.