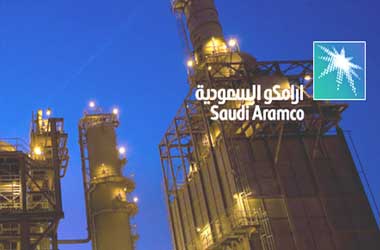 Tadawul, the Saudi Arabia stock exchange is going against bourses all over the world for the sole right to list what is touted to be the world's biggest initial public offering.
Saudi Aramco, officially known as the Saudi Arabian Oil Company is already on track to go through with its initial public offering (IPO) for 2018.
As the world's biggest oil exporter, Aramco's IPO is attracting stock exchanges all around the world including New York, London, Tokyo, Hong Kong, Toronto, and Singapore.
Khalid Al Hussan, Chief Executive Officer of the Saudi stock exchange remained optimistic that Tadawul would be chosen as the sole and only exchange to list Aramco. This move, according to Al Hussan, will attract more foreign institutional investors into the country's exchange. Saudi Arabia's Crown Prince Mohammad bin Salman estimates that Saudi Aramco is valued at more than $2 trillion and plans to offer around 5 percent of the company for sale. This is part Saudi Arabia's Vision 2030, which is an expansive reform plan to boost Saudi Arabia's economy and raise money for investments that will help wean the country's dependency on crude oil.
Fox Business
Prince Mohammad revealed that the Aramco IPO is on track for 2018 but listing details are still under discussion, which means that it will be very competitive for the bourses eyeing the sale. However Al Hussan has stated that Tadawul has already started their work and are preparing for the IPO. This gives them the leverage to proceed with the next phase of execution as soon as a decision is made.
Tadawul is preparing itself for the different scenarios and structures that it could be presented with once Aramco makes it announcement. Al Hussan posits two theories on the kingdom's decision for Aramco's IPO. One is that Saudi Arabia is considering to distribute the sale both domestically and internationally; and two that it's to put pressure on London and New York to ease their listing guidelines.
UK's financial regulatory body, the Financial Conduct Authority (FCA) has already admitted to meeting with Aramco officials ahead of the reported plans to water down their rules for the oil giant. This is in response to backlash against the consultation launched by FCA in July this year to create a separate category on the stock market for companies controlled by a sovereign country.
The New York Stock Exchange has also admitted to speaking with the kingdom's authorities about the progress of the Aramco sale and reiterated that they are not giving up on the IPO, as well. The IPO of Saudi Aramco is expected to raise as much as $100 billion—a figure which will be the biggest in history, offsetting the $25 billion raised by Alibaba Group Holding Ltd. in 2014.