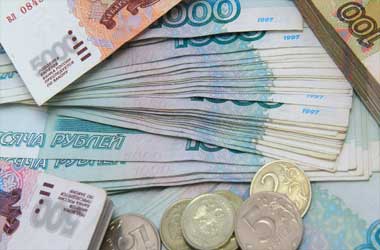 The weak GDP data from Russia ensured a decline of the ruble to 76.10 against the greenback on Friday, but still remained near the two-month high, backed by positive sentiment from the news related to Covid-19 vaccine. Notably, Covid-19 cases in Russia and abroad continue to rise.
Specifically in Russia, 24,318 cases were reported on Friday, the highest level since the pandemic began. Additionally, the number of casualties stood close to an all-time high of 463.
In the meanwhile, the benchmark crude oil gained roughly 0.5% to close at $44.45, representing the third successive weekly gain.
The country's gross domestic product shrank 4.7% y-o-y in October 2020, following a downwardly amended 3% (from 3.3%) contraction in September, led by a drop in manufacturing and agro sectors.
The overall January to October GDP contraction was 3.6%. The country's economy was hit a decline in crude prices, its major export, and the Covid-19 pandemic. The ruble was also under the pressure from geo-political issues and fears of additional sanctions against Moscow.
Capital Economics wrote as follows:
"With virus restrictions tightening in many regions, the roll-out of the vaccine pushed back, and fiscal support unlikely to be stepped up, the economy will struggle to gain momentum over the coming months."
On Friday, Russian President Vladimir Putin opined that the economy could contract 3.9% in 2020, a figure looking positive than the central bank's forecast for a GDP contraction of 5%.
In Russia, real wages increased 2.2% y-o-y in September, expediting from a 0.1% rise in the earlier month and surpassing market forecasts for a 0.1% gain. Average nominal wages rose 6% to RUB 49,259, while annual inflation stood at 3.7%.
The country's jobless rate was 6.3% in October, unaltered from the earlier month and lower than market forecasts of 6.4%. The number of jobless people declined 83,000 from last month to 4.694 million. Likewise, the number of officially registered unemployed people fell by 217,000 to 3.470 million.
Even the trade data was depressing. Russia's retail trade fell 2.4% y-o-y in October, following a 3% drop in the earlier month and compared with market forecasts of a 3% drop. It was the seventh successive moth of drop in retail activity, even though at the slowest rate in the prevailing sequence, as the economy slowly rebounded from the pandemic.
Food sector sales declined 3.6% in October, while non-food products recorded 1.1% drop. On a m-o-m basis, retail trade rose 2.1% in October, following a 1.7% drop in the earlier month.