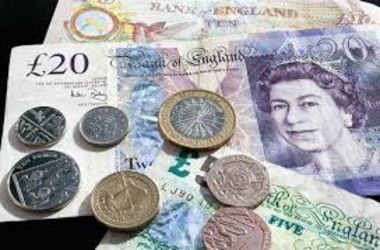 The Pound to Euro exchange rate is poised to record its lowest daily closing rate since May, propelled by a persistent selloff fueled by growing expectations of Bank of England rate cuts in 2024. This week witnessed an accelerated shift in the projected timing and quantity of rate cuts, but according to Valentin Marinov, Head of G10 FX Strategy at Crédit Agricole, the market may have overextended its response.
Marinov stated, "Given the repricing of BoE rate cuts and the bank's economic outlook, we believe that many negatives are already in the price of the GBP." The Pound has experienced a downturn against both the Euro and Dollar, with Crédit Agricole attributing this decline to increasingly assertive bets on Bank of England rate cuts in 2024.
Aggressive Rate Cut Predictions Erode GBP's Relative Rate Appeal
"The pricing in of BoE easing has gathered pace in recent days, with UK rates markets expecting more than three rate cuts in 2024 at the time of writing," observed Marinov. The Pound to Euro exchange rate has consistently fallen throughout the week, currently standing at 1.1435, poised to conclude at its lowest level since May 05.
Marinov noted that other G10 money markets are also witnessing amplified bets for rate cuts. However, he emphasized, "the downgrade to the BoE rate outlook has been more aggressive, and the GBP's relative rate appeal has suffered as a result." This trend is reflected in a chart depicting the Pound-Euro at daily intervals and the difference between the UK two-year bond yield and Germany's.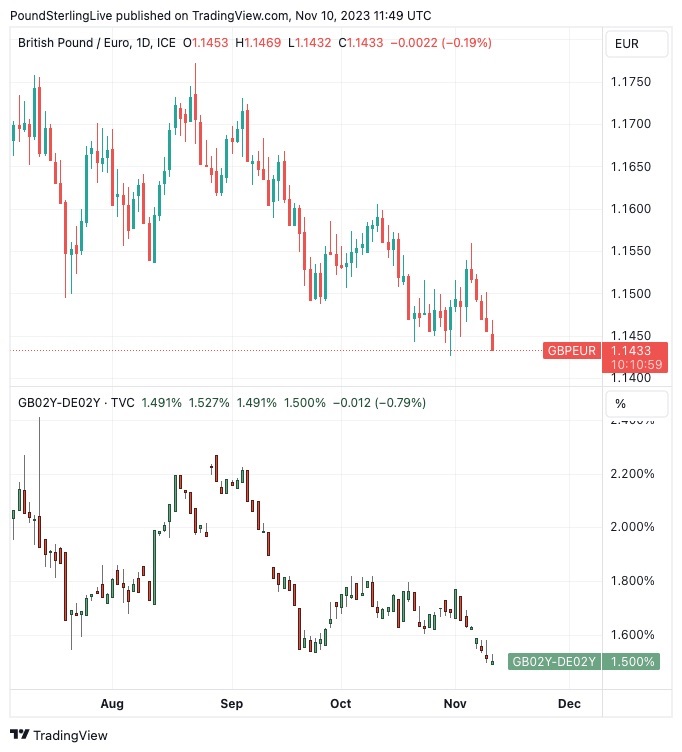 BoE Chief Economist's Comments Amplify Rate Cut Expectations
The chart illustrates a narrowing spread between two-year bond yields as UK rate cut expectations intensify, placing downward pressure on the Pound-Euro exchange rate. Marinov explained, "While the GBP was able to regain some ground vs the broadly weaker USD, it clearly lagged against the EUR, for example."
The surge in rate cut predictions followed comments from Bank of England Chief Economist Huw Pill, who openly supported the market's current expectations for cuts by mid-2024. Andrew Goodwin, Chief UK Economist at Oxford Economics, remarked, "This was the first time a Bank insider had talked positively about loosening policy and contrasted with Pill's previous comments about a 'Table Mountain' profile for rates, so this intervention appeared significant."
Economic Data and Forward Guidance Contribute to Rate Cut Bets
UK economic data has played a role in bolstering expectations for rate cuts, despite this week's figures exceeding expectations in areas such as house prices and Q3 GDP. Marinov observed, "Among the drivers of the latest moves in UK rates markets seems to be a build-up of economic data disappointments as well as comments by the BoE's Chief Economist Huw Pill suggesting that the MPC is done hiking rates."
Crédit Agricole, however, asserts that rates markets may be overreacting to what its analysts still consider to be a fairly neutral and data-dependent forward guidance by the Bank of England. Marinov stated, "Indeed, we note that BoE Governor Andrew Bailey in particular did not rule out future hikes and emphasized the bank's focus on bringing inflation under control."
Caution Advised as Negative Factors May Already Be Priced In
Looking ahead, Crédit Agricole contends that given the repricing of BoE rate cuts and the bank's economic outlook, many negatives are already reflected in the GBP's current value. Marinov concluded, "It would thus take downside surprises from next week's data to see GBP's underperformance extending in the very near term." Investors are advised to exercise caution amid the current market dynamics and to consider the potential impact of upcoming economic indicators on the Pound's performance.