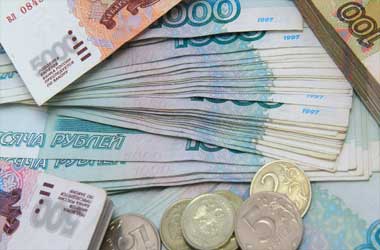 The Russian ruble lost nearly 1% to trade at about 76.12 against the greenback Monday, a level seen on April 21, pushed down by weak oil prices and geopolitical issues.
The benchmark Brent crude fluctuated around 2-month low of $41.71 per barrel, after Saudi Arabia slashed October price of Arab Light crude, which is shipped to Asia.
The offered price reflects a steep rate cut similar to the one seen in May as demand remains sluggish against the backdrop of Covid-19 pandemic.
The currency is also under pressure due to a decline in daily sales of overseas currency by the finance ministry. The ruble also breached 90 per euro, the lowest level in four-and-a-half years (February 2016).
Germany, which is the prevailing head of the EU, will work out likely sanctions on Russia with regards to the poisoning of Alexei Navalny if Kremlin does not give an acceptable explanation soon, the country's foreign minister said last weekend.
Russia's main opposition leader Navalny got sick under strange situations, during a flight travel last month, and was given initial treatment in a Siberian hospital before getting shifted to Berlin.
German chancellor Angela Merkel stated last week there was unambiguous proof that the ardent opponent of President Vladimir Puttin had been envenomed utilizing Soviet-period nerve toxin Novichok.
While speaking to German daily Bild, Heiko Maas said "If in the coming days Russia does not help clarify what happened, we will be compelled to discuss a response with our allies."
According to Maas, any sanctions chosen should be focused and did not exclude the possibility of taking stringent measures related to the controversial €10 billion Nord Stream 2 pipeline project aimed at delivering Russia gas to Europe. The venture is facing the ire of the US.
With a tone of caution, Maas said "I hope … that the Russians do not force us to change our position on Nord Stream."
Russia's annual inflation rate increased to 3.6% in August, from 3.4% in July, exceeding market's anticipating of 3.5%, but staying below the 4% target of the country's central bank. The reported inflation rate is the highest since October 2019.
The increase in inflation was primarily due to a 4.3% increase in food products and 3.4% rise in non-food products. On m-o-m basis, consumer prices did not record any growth, following a 0.4% increase in July and in accordance with market consensus.
The IHS Markit Russia Services PMI fell slightly to 58.20 in August, from 58.50 in the earlier month. It is second successive month of expansion in business activity due to restart of service providers.
Both output and fresh orders increased further, even though export orders declined. Local demand for services increased. For the first time since pre-pandemic February, employment increased, albeit at a fractional rate, as backlogs of work continued to decline.
Due to an increase in operational costs and fuel related expenses, there was a hike in input costs. However, output costs rose only slightly, nevertheless, against measures to increase sales. Ultimately, business morale rose to a 10-month high against expectations of an economic rebound.
In the first half of 2020, Russian corporate profits declined 46.7% to Rub 4.31 trillion, from Rub 8.08 trillion in the comparable period last year. While manufacturing sector posted a 67.5% decline in profits, mining & quarrying industry recorded a 44% fall.
Russia's unemployment increased 6.3% in July, the highest level since March 2012 and a notch higher than market's expectations of 6.1% as the Covid-19 pandemic severely affected the labor market. The number of unemployed people rose by 125,000 from prior month to 4.731 million. Similarly, the numer of registered unemployed jumped 524,000 to 3.311 million.