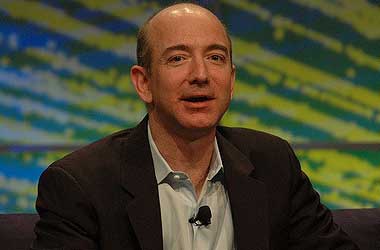 Bill Gates has been on the top of Forbes' list of the richest Americans for the last 24 years. Gates built his empire with the rise of Microsoft which has helped him make billions and earn the title of the world's richest man for a number of years.
Now, a new digital king has taken over as Jeff Bezos, the man behind Amazon has knocked Gates from the top spot of Forbes's Richest list of the top 400 Americans.
Jeff Bezos is the first member on the list with a fortune of more than $160 billion, which is an achievement on its own.
This new position is a massive jump from his previous position in 2017 when his estimated worth was only $75.5 billion. The main reason for this incredible jump is that Amazon stock prices have jumped 100 percent since then.
Bill Gates now holds the number two spot with a fortune of $97 billion, not quite breaking the $100 billion mark. Warren Buffet takes up the third spot with his personal fortune of $88.3 billion thanks to his Berkshire-Hathaway investments.
Facebook founder Mark Zuckerberg takes the 4th spot on the list. His Facebook fortune is pegged at $61 billion and this is despite the recent scandals facing the social media giant. The fifth spot is held by Oracle founder Larry Ellison who is worth $58.4 billion while Google co-founder Larry Page is in the sixth spot with $53.8 billion.
The Koch brothers are comfortable at their Top 7 position, with both of them having the equal net worth of $53.5 billion. Sergey Brin who is Page's partner at Google has $52.4 billion and takes the ninth spot while Michael Bloomberg rounds off the list in tenth spot with a fortune of $51.8 billion.
Trump's Fortune Diminishes
The Forbes list of the top 400 richest Americans show that these wealthy Americans have had a good time during the last twelve months and the wealth for most of them have gone up by an average of $600 million in net worth. However, President Donald Trump appears to be one of the exceptions. His value fell to $3.1 billion this year and puts him at No. 259 on the Forbes 400 list.
According to Forbes, this is because of the weakening global real estate market as well as his political gaffes. Though Trump is still a lot wealthier than media giants Oprah and Ted Turner, he has dropped 27 spots from his 2017 position.