Scotiabank Analyst Predicts Continued Progress in GBPCAD
The Pound to Canadian Dollar exchange rate (GBPCAD) has demonstrated an upward trend since late September, and according to Shaun Osborne, Chief Currency Strategist at Scotiabank, technical studies indicate the potential for further gains until reaching the 1.70/1.71 area.
Bullish Trend in GBPCAD Maintains Momentum
Osborne highlights that the bull trend in GBPCAD has made noticeable progress in recent weeks, surpassing the late July low and encountering resistance around the 50% Fibonacci level in the low 1.68 area. Despite this progress, the 61.8% retracement resistance has prompted a consolidation in the pound's rally. While daily price action may seem volatile, Osborne notes that shorter-term charts suggest the development of a bull flag pattern, indicating an inclination for further upward movement.
Canadian Dollar Weakness Contributes to GBPCAD Upside Momentum
The observed upside momentum in GBPCAD is attributed more to the broader weakness of the Canadian Dollar than a distinct outperformance by the Pound. Osborne notes that domestic factors have led to pressure on the CAD, including disappointing domestic data, speculations that the Bank of Canada has concluded its rate hiking cycle, and rising expectations of an impending interest rate cut. Notably, October's inflation release revealed a monthly decline in August, coupled with underwhelming GDP figures, suggesting the Canadian economy is flirting with recession. Additionally, last Friday's unexpected rise in unemployment further contributed to an unsupportive environment for the CAD.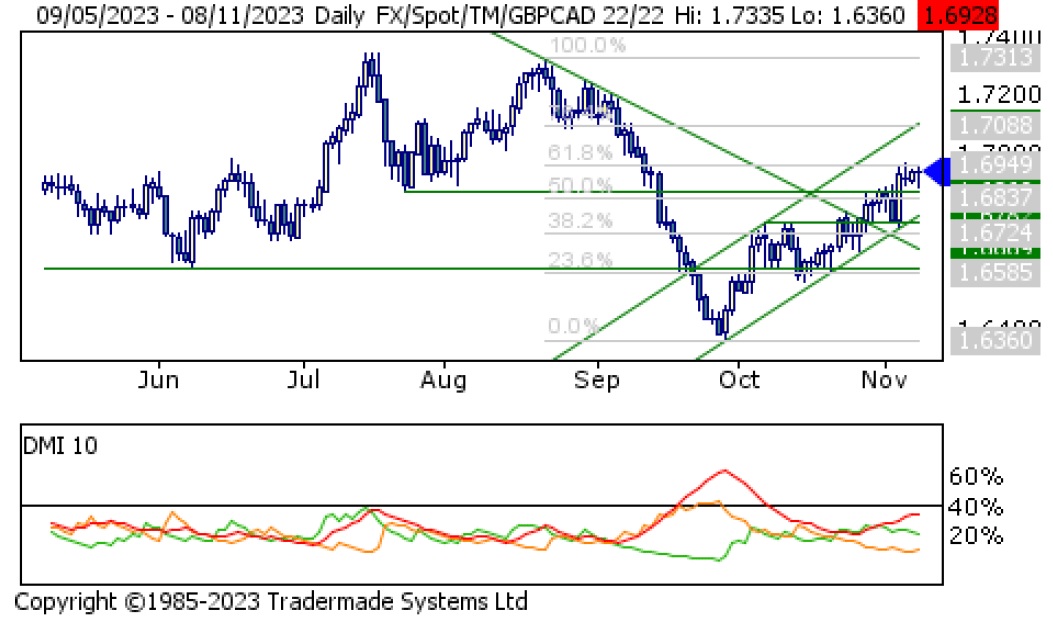 Fundamental Developments Align with Technical Setup
The fundamental developments align with the technical setup in the GBPCAD exchange rate, providing insights for potential levels in the near- to medium-term. Osborne notes that trend oscillators support additional GBP gains with limited downside potential. Intraday and daily Directional Movement Index (DMI) signals strongly favor GBP bullishness, while the weekly signal mildly tilts in favor of the pound. The analyst anticipates support for GBP on dips to the upper 1.68s, and a move in GBPCAD beyond 1.6950 could signify the continuation of the rally towards the 1.70/1.71 range.
This analysis from Scotiabank underscores the intricate interplay between technical indicators and fundamental factors in shaping the trajectory of the GBPCAD exchange rate. The ongoing weakness in the Canadian Dollar appears to be a driving force, creating opportunities and challenges for traders closely monitoring this currency pair.