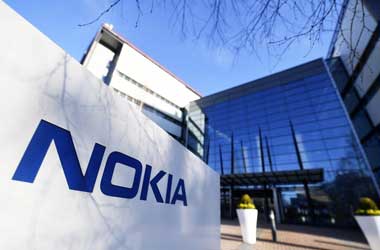 Due to technology transition, heavy competition from China, and operator consolidation in some countries, the erstwhile mobile handset manufacturer, Nokia Corp (NYSE: NOK) reported a 7% y-o-y decline in the fiscal 2017 third quarter revenue. The non-IFRS operating profit of the company exceeded analysts' estimates.
However, it was due to a one-time patent dispute settlement payment of €180 million received from LG Electronics. The company also presented a gloomy outlook for the overall telecom equipment market in 2018. Thus, we anticipate the stock to remain bearish in the short-term.
Net sales during the third-quarter declined to €5.537 billion, from €5.596 billion in the similar quarter of fiscal 2016. Non-IFRS profit almost doubled to €514 million, or €0.09 per share in Q3 2017, from €258 million, or €0.04 per share, in the year-ago period. Analysts had expected a revenue of $5 billion for the quarter. Non-IFRS operating profit increased to €668 million in the recent quarter, from €556 million last year, and beat analysts' estimates. Segment wise, Nokia's Networks business reported a Q3 2017 revenue of $4.823 billion, down 9% from 5.329 billion in the similar period of 2016.
Nokia
Under the Networks business division, Ultra Broadband Networks revenue plunged 17% y-o-y to $2.099 billion. Global services revenue decreased marginally by 2% to $1.359 billion. IP Networks and Applications revenue fell 4% to $1.365 billion. Nokia Technologies' revenues jumped 37% y-o-y to $483 million. Under Nokia Technologies division, Group Common and Other revenues were $251 million, a decrease of 15% on a y-o-y basis.
The telecom hardware manufacturers are going through a rough phase as the demand for 2G, 3G, and 4G equipment is on a decline. More worrisome is the fact that the demand for 5G networking equipment is few years away. Notably, the company bought Franco-American rival Alcatel-Lucent for €15.6 billion two years ago.
Nokia said it now expects the global telecom hardware equipment market to decline 4% to 5% in 2017, compared with a previous forecast of a 3% to 5% decline. In 2018, the company expects the market to decline by 2% to 5%. Thus, a decline in third-quarter revenues, increasing competition from Chinese manufacturers, and poor outlook turns Nokia bearish in the short-term.
The stock has broken the 50-day moving average, as shown in the image below. The negative reading of the MACD histogram also confirms bearishness in the scrip. Thus we anticipate a decline in the share price.
To benefit from the short-term decline, we are planning to invest in a put option offered by any of the reputed binary brokers listed on this site. A strike price of about $5 is preferred for the trade. Further, the contract should not expire before November 22.