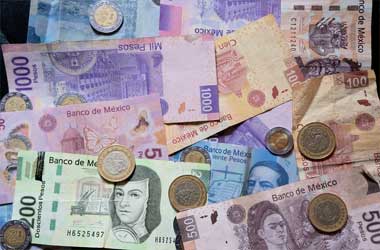 The greenback gained 0.6639 or 2.66% against the Mexican Peso (USDMXN) to trade at 25.6139 Monday April 6, from 24.9500 at the close of earlier trading session.
Almost all the major measures of economic activity, including consumer confidence, manufacturing, and even unemployment rate data are indicating gloomy outlook.
The COVID-19 outbreak has shattered the world economy, with roughly 1.30 million cases confirmed so far.
Almost 70,000 have lost their lives. Mexico, which is heavily dependent on the US economy, is obviously affected by the lockdown in the US.
Mexico's consumer confidence declined to 42.60 in February 2020, from a downwardly amended 43.8 in the earlier month. Economists had anticipated the consumer confidence figure to improve to 45.20. The reported figure is the lowest since November 2018. All subindexes fell amid worries about coronavirus outbreak.
While current household scenario inched lower to 48.5, from 48.6, outlook for households' economic circumstances dropped to 54.6, from 55.70. Current economic conditions of the country also declined to 39.20, from 40.50. Anticipations regarding the country's economic state of affairs also slumped to 45.8, from 47.90. In the meanwhile, plans to purchase durable goods inched down to 25.50 from 26.
The IHS Markit Mexico manufacturing PMI fell to 46.90 in March 2020, from 50 in the earlier month. The figure indicated the worst contraction ever documented as the coronavirus pandemic jolted the economy. Output declined at the quickest rate in the quarter as demand plunged and fresh orders declined to a historical low, in part led by a drop in export sales due to coronavirus outbreak.
As delivery duration increased considerably, vendor operations worsened to its lowest level in seven years. Furthermore, the rate at which jobs are lost rose to its highest level in three months, led by a decline in production necessities.
While input cost inflation increased, output cost declined, stretching the prevailing deflation scenario to five months. The weak manufacturing output has caused a decline in sentiment to a historical low level amidst anticipations of an extended economic sluggishness.
The seasonally adjusted manufacturing confidence index in Mexico declined to 44.40 in March 2020, from a downwardly amended 47.10 in the earlier month, with coronavirus interruptions complicating prevailing issues.
The lowest reading since February 2017 was driven by drop in current assessment over investment (32.20, from 37.50 in Feb), country's economic condition (40.9 against 43.7) and company's circumstances (32.2 vs 37.5). Furthermore, the index reflecting likelihood of improvement in country's economic condition (46.9 vs 49.2) and the company's circumstances (54 vs 55.7) did not record an improvement.
The unemployment rate in Mexico rose to 3.6% in February 2020, from 3.3% in the year-ago period, in line with economists' expectations.
The unemployment rate increased for both men (3.5% vs 3.2%) and women (3.6% against 3.5%). Among jobless people, 11.3% have not finished secondary education, while 88.7% had a university education.
In the meanwhile, the participation rate increased to 60.1%, from 59.2% in the prior-year period. On a seasonally adjusted basis, the unemployment rate was 3.7%, unchanged from January.
The only consolation is that the country's trade surplus widened to $2.911 billion in February 2020, from $1.340 billion in the comparable period last year, and exceeding market anticipations for a $0.95 billion surplus.
While exports increased 0.6% y-o-y to $36,634 billion, led by an increase in sales of both non-oil (3.1%), of which manufacturing goods (3.2%) and agricultural (2.8%), offset by 32% decline in oil exports. Mexico shipped 1.093 million barrels of crude per day, a decrease from 1.475 million barrels last year.
Crude was shipped at an average price of $48.44 per barrel, down $7.69 per barrel in February 2019. Non-oil exports to the US rose 4.40%, led by automotive (6.6%) and other goods (3.2%). Imports dropped 3.9% to $33,724 billion, due to drop in purchases of intermediate goods (-3.7%), oil (-8.7%), and capital (-11.1%).