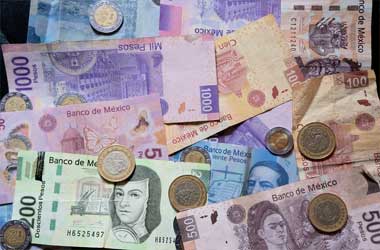 The Mexican peso changed hands at 20.85 per USD in mid-November, almost a nine-month low of 20.97 on November 3rd, despite falling oil prices and overall dollar strength as expectations mounted that the Fed will boost rates sooner to combat rising inflation. Crude oil futures, a significant Mexican export, were trading at 76 dollars a barrel, down more than 10% from their recent top of $84.97 on November 10th.
Meanwhile, officials at the Bank of Mexico projected that November's inflation figures might exceed 7%, the highest level since 2001 and more than twice the central bank's objective. Additionally, projections indicated that the second-largest Latin American economy expanded at a 1.9 percent annual rate in October, down from a 5% annual rate in September, impacting on the currency's attractiveness.
On November 9th, Mexico's central bank increased its benchmark policy rate by 25 basis points to 5.0 percent, as predicted and marking the fourth straight increase. Despite the fact that the shocks that boosted inflation are projected to be temporary, the monetary authority said that they may pose dangers to the price formation process and inflation expectations owing to their diversity, scale, and the lengthy horizon over which they had an effect.
To prevent such risks, it was determined that the monetary policy stance should be strengthened by adjusting it to the trajectory needed for inflation to converge to its objective of 3% within the anticipated horizon. Nonetheless, the monetary authority said that early third-quarter data indicates a decline, but Banxico anticipates the economy to resume growth in the fourth quarter of 2021. Meanwhile, October consumer inflation statistics revealed a faster-than-expected 6.24 percent rise in prices, while core inflation increased by 5.19 percent.
Mexico's industrial output increased by 1.6 percent year on year in September 2021, dropping from a revised 5.5 percent growth the previous month and falling short of market estimates of a 3.9 percent increase. The latest report indicated that the industrial sector expanded for the seventh consecutive month, but at a slower pace than in previous months due to severe disruptions in global supply chains, mainly material shortages and skyrocketing energy costs.
Construction growth accelerated again (8.3 percent vs. 8.8 percent in August), while mining activity maintained a strong pace (2.0 percent, the same as in August). Meanwhile, manufacturing production decreased (-0.4 percent vs. 6.6 percent) and utilities output decreased (-3.3 percent vs -5.1 percent). Industrial production unexpectedly fell 0.4 percent on a seasonally adjusted monthly basis, after a revised flat figure in August and falling short of market expectations of a 0.1 percent gain.
Mexico's annual inflation rate increased to 6.24 percent in October 2021, up from 6% in September, above market estimates of 6.18 percent and pushing farther away from the central bank's objective of 3%. It was the highest increase in the CPI since December 2017, as housing and utility costs increased (5.55 percent compared to 4.69 percent in September), transportation costs increased (7.28 percent compared to 6.96 percent), restaurant and hotel costs increased (6.75 percent compared to 6.57 percent), recreation and culture costs increased (5.22 percent compared to 4.52 percent), and healthcare costs increased (4.27 percent vs 4.05 percent).
On the other hand, inflation in food and nonalcoholic drinks has slowed (8.42 vs 8.75 percent). Annual core inflation increased to a 12-year high of 5.19 percent in May, up from 4.92 percent in April. Consumer prices grew 0.84 percent month over month in October, up from 0.62 percent in September. Mexico's vehicle exports fell 19.9 percent year on year to 224.5 thousand units in October 2021, the lowest level since 2012, owing partly to the current global semiconductor shortage.
Shipments from Stellantis (-17.8 percent to 38.3 thousand), General Motors (-55.2 percent to 31.2 thousand), Nissan (-10.9 percent to 29.3 thousand), and Volkswagen (-10.9 percent to 29.3 thousand) were also down (-38.6 percent to 19.8 thousand). Mexico's automobile output fell 25.9 percent year over year to 257.8 thousand units in October 2021, the lowest level for that month since 2011, owing to the continuing semiconductor crisis, which has forced practically all automakers to decrease shifts or temporarily shut down assembly lines.
Nissan (-17.8 percent to 53.9 thousand units), Stellantis (-9.7 percent to 45.2 thousand units), Volkswagen (-37.6 percent to 25.9 thousand units), and General Motors (-37.6 percent to 25.9 thousand units) also saw declines in output (-68.6 percent to 25 thousand). On the other hand, Ford Motor Company's production climbed significantly (1285 percent to 21.9 thousand).