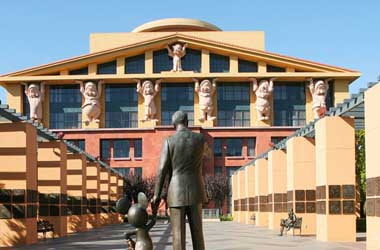 Last week, media and entertainment company Walt Disney (NYSE: DIS) reported fiscal 2017 first-quarter earnings that beat analysts' estimates. However, the stock, which recorded a 12-month high of $111.99 on the February 1st , failed to appreciate further. At the outset it looks as if the lower-than- anticipated revenue as the prime reason for the decline in the share price. However, as explained below, there are also several other factors which indicate that the decline would be a deeper one.
The California-based company reported first quarter revenues of $14.78 billion, down 3% from $15.24 billion in the similar period last year. The Thomson Reuters revenue estimates stood at $15.26 billion.
The Q1-2017 net income declined 14% to $2.48 billion, from $2.75 billion in Q2-2016. For the quarter ended December 2016, the non-GAAP earnings plunged 4.9% to $1.55 per share, from $1.63 per share in the same period last year. The quarterly non-GAAP earnings were higher than analysts' estimates of $1.50 per share.
McCarter & English, LLP
The Media Networks segment reported a 2% y-o-y decline in revenues to $6.233 billion. Studio entertainment segment recorded quarterly revenues of $2.52 billion, down 7% from $2.72 billion last year. However, the Parks and Resorts segment posted quarterly revenue of $4.6 billion, up 6% on a y-o-y basis.
The investors are concerned about the rising programming costs and lower advertising revenue from ESPN. Walt Disney's management confirmed that the growth trend would be soft in the fiscal 2017. The investment research firm Vetr has downgraded Walt Disney to "hold" rating, from the prior "buy" rating. Similarly, the equity research analysts at Pivotal Research have downgraded the stock to a "sell" rating, from the prior "buy" rating. Pivotal Research has given a target price of $86 for the stock.
The current price to earnings ratio of 19.7 is marginally higher than five year average of 19.6. Likewise, the price to book value ratio of 4.0 is greater than the historic average of 3.1. This indicates that the stock is currently trading at a small premium. So, on the basis of the above details, we expect the stock of Walt Disney to undergo a short-term correction.
Having failed to cross the resistance level of 110.50, the stock has started depreciating. The descending stochastic indicator underlines the weakness in the stock.
So, a binary trader can gain from the probable downtrend by investing in a low or below contract. An investment is advisable only when the stock trades above $109 (as shown in the broker's platform) in the equity market. To allow adequate time for price movement, the contract should remain valid for a period of one week from the date of purchase.