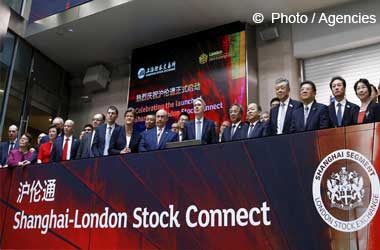 The Financial Conduct Authority (FCA) which is the UK financial regulator and the China Securities Regulatory Commission (CSRC) released a joint announcement which expressed support and approval of the historic Shanghai-London Stock Connect which recently launched.
The Stock Connect is a scheme championed by both the Shanghai Stock Exchange (SSE) and the London Stock Exchange (LSE) as they seek to spur more cross-border investments. The arrangement grants investors and firms in the UK and China mutual access to each other's capital markets. Through this stock connect, companies are also enabled to sell shares through dual listings on both the exchanges.
The scheme was launched during a ceremony at the London Stock Exchange at 10 Paternoster Row, London on Monday.
CGTN
New Connect To Bridge Chinese And British Investors
The Stock Connect empowers firms listed on the SSE to apply to be admitted to trading on the fresh Shanghai segment of the LSE. Meanwhile, companies with a premium listing in the UK are allowed to apply for admission to the main exchange of the SSE.
The investment scheme is seen bridging access between overseas companies and institutional investors in international financial centers such as London. The structure has been embraced by London before, but the arrangement is entirely new to Chinese investors. Through the Stock Connect, Beijing investors are given the opportunity to dabble more in the international stock market via an exchange in their own country and using their own currency.
Under this investment structure, securities will be traded in the form of depository receipts in both the UK and China, a common means of facilitating foreign firms access to institutional investors.
The unique arrangement also opens the door for UK investors to participate in the Chinese A-share market, a segment that has been largely restricted to western institutions that were classified with Qualified Foreign Institutional Investors status.
UK, Chinese Regulators Pledge To Protect Investors
The FCA and CSRC have released a signed memorandum of understanding (MoU) that will serve as the foundation for the two bodies' regulatory cooperation in supporting this new investment structure. The pact also maps out a framework of collaboration between the two regulators in their support of the Stock Connect.
Among the key objectives in the MoU are the protection of the welfare of investors on both sides and a pledge to fight cross-border market abuse and other serious misconduct, among others.
FCA Chief Executive Andrew Bailey sees the arrangement strengthening the ties between the UK and China's capital markets which will benefit both countries.