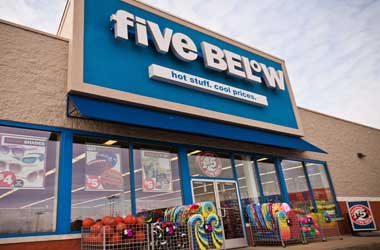 Last week, speciality value retailer Five Below, Inc. (FIVE) announced its fiscal 2016 first-quarter earnings and revenue that surpassed the Wall Street estimates. The results took the share price to a new 12-month high of $45.36. While the rationale behind the up-trend is the impressive fiscal 2016 and second-quarter outlook, there are some other reasons which continue to keep the stock bullish.
The fiscal 2016 first-quarter net sales of $192.72 million surpassed the analysts' estimates of $187.7 million. In the same period last year, the revenue was $153.73 million.
For the first-quarter, the net income increased to $6.758 million or $0.12 per share, from $4.278 million or $0.08 per share in the corresponding period last year. The first-quarter earnings exceeded the consensus estimates of $0.10 per share.
Five Below
During the first-quarter, the comparable store sales grew 4.9%, compared to a 4.1% growth anticipated by the analysts. The company also got a distinction of achieving 10 years of consecutive quarterly comp growth.
Furthermore, in the first-quarter, the discount store chain opened 21 stores taking the tally to 458 stores spread across 28 states. This represents a 19% increase in the number of stores, compared to the first-quarter of fiscal 2015.
The retailer, which sells products priced below $5, also gave its fiscal 2016 second-quarter outlook. For the second-quarter, the company anticipates net sales in the range of $995 million to $1.005 billion. The forecast is based on the assumption that Five Below would open 85 stores this year and record a comparable store sales growth of at least 3%. The net income for the second-quarter is expected to range between $69.9 million and $72.2 million. Correspondingly, the earnings per share is forecasted to be between $1.27 and $1.31.
Five Below's quarterly revenue growth of $0.24 is higher than the industry's average of $0.13 per share. Similarly, the company's current EPS of $1.05 is above the sector average of $0.46 per share. Thus, it can be understood that the company is fundamentally very strong. So, a further rise in the share price can be expected in the current quarter.
The stock continues to rise unabated in the uncharted territory, after breaking above the resistance at 41. The RSI indicator remains firm above the half-way level of 50. Thus, we can expect the up-trend to continue further. Considering the past support and resistance levels, we can anticipate sellers to come in at 48.
Thus, a one touch call option with target price below 48 should be ideally picked by a binary options trader. To increase the likelihood of success, the trader should also look for a contract expiry period between the 1 st and 7th of July.