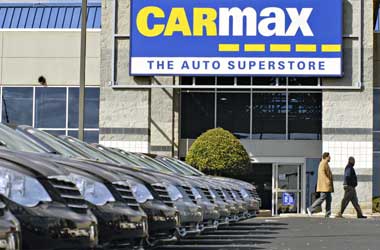 Earlier last week, used-car retailer CarMax Inc. (KMX) reported its fiscal 2016 first-quarter results that were below the analysts' estimates. As expected, the punters hit the stock hard without any respite. The stock has lost about 10% in the past few trading sessions. However, there is less probability of recovery in the stock price in this quarter due to the reasons mentioned below. On Friday, the stock ended at $46.32, down $0.66 or 1.40% from the prior close.
With a 3% growth in net sales on a y-o- y basis, CarMax, the fortune 500 company, reported a first-quarter revenue of $4.13 billion. Still, the first-quarter revenue was below the analysts' estimate of $4.19 billion. The company's fiscal 2015 first-quarter revenue was $4.10 billion.
Likewise, the net earnings for the quarter ended May, 2016 were $175.4 million or $0.90 per share, down from $182 million or $0.86 per share in the similar quarter last-year. The Wall Street's earnings estimate was $0.92 per share for the first-quarter. The primary reason for the decrease in the net earnings is the increase in the selling, general and administrative (SGA) expenses by 50 basis points compared to the similar period last year. The SGA expenses for the quarter were $380.23 million or 9.2% of the total revenue.
KVIA.com
Secondly, the 1% rise in the used vehicle sales, on a y-o- y basis, was almost negated by a 0.6% fall in the wholesale vehicle sales. CarMax' auto finance income also dropped slightly to $100.75 million, from $109.11 million in the year-ago corresponding quarter.
The Richmond, Virginia-based company also faces severe competition from new entrants such as Beepi, Shift Technologies, and Vroom. This is of concern to investors and analysts.
Earlier this year, another new and used-car seller AutoNation (AN) warned that the company would see significant decline in the bottom line this year. The statement triggered a sell-off in the CarMax' counter as both companies have a similar business profile. Last year, the automobile sector in the US saw record high vehicle sales. Unless there is a firm confirmation of a similar situation, investors would be wary of investing in CarMax. Thus, fundamentally, the stock will remain range bound with bearish bias.
In the past 10 months, the stock has made numerous unsuccessful attempts to cross the level of 56. The MACD indicator has made a bearish crossover below the zero line. Thus, it is almost certain that the share price would decline further.
The next major support for the stock exists at $44. To get the most out of the impending down trend in the stock, a trader should trade a one touch put option contract. The target price for the contract should be $44. A three week time span would be quite enough for the price to hit the forecasted level.