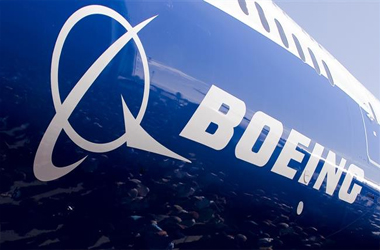 In the final week of April, the world's biggest aircraft manufacturer Boeing Co (NYSE: BA) reported better than anticipated fiscal 2017 first-quarter earnings and revenue.
However, profit booking took a toll on the share price, which fell from a 12-month high of $187.21 to a low of $179.70 last week. A marginal decline in the delivery of commercial aircrafts and 737s also fuelled the selloff.
However, on the basis of information provided below, we expect the stock to make a bullish reversal from Tuesday's closing price of $183.49.
Boeing reported fiscal 2017 first-quarter net income of $1.45 billion, or $2.34 per share, on revenues of $20.98 billion. This compares with a net income of $1.22 billion, or $1.83 per share, on revenues of $22.63 billion. The Wall Street analysts expected the company to post revenues of $21.30 billion.
Boeing
Excluding pension and other costs, the Q1 2017 core earnings grew 1% to $1.71 billion, from $1.69 billion in the year-ago quarter. On a per share basis, the core earnings increased 16% to $2.01, from $1.74 per share, and surpassed analysts' estimates of $1.94 per share. The core earnings reflect the positive impact of cost cutting program.
During Q1 2017, the company delivered 169 commercial aircraft, versus 176 last year. Boeing clarified that last year's revenue includes the sale of three C-17 military transport aircraft, which is no longer manufactured. The deliveries of 737s also declined to 113, from 121 a year ago. However, the company has received regulatory certification for 737 MAX jets. So, Boeing is currently focusing on delivering eight 737 MAX jets this quarter. Notably, in the recent quarter, Boeing delivered two more 787s compared to the corresponding quarter of 2016.
At the end of the March quarter, the company had a backlog of $479.5 billion, up from $473.5 in Q1 2016. This includes $27 billion worth orders received in the recent quarter. In the first-quarter, operating cash flow increased 64% y-o-y to $2.09. More importantly, Q1 2017 free cash flow tripled to $1.63 billion, compared to $527 million in the prior year's similar quarter.
The company raised its FY17 core earnings expectation to a range of $9.20 to $9.40 per share, from the previous guidance range of $9.10 to $9.30 per share. Boeing also maintained its full year 2017 revenue guidance range of $90.5 billion to $92.5 billion. Thus, effective cost cutting measures and upwardly revised FY17 EPS outlook are expected to attract buyers at the current valuations.
As shown below, the stock has bounced off the support at 177. The stochastic oscillator is out of the bearish zone, while the momentum indicator is moving towards the 100 reading. So, there are greater chances of an uptrend in the stock price.
To benefit from the impending uptrend, we may consider traders should purchase a call option with June 2nd as the expiry date at your chosen binary options broker. We would also target our entry when the stock of Boeing trades near $182 in the NYSE.