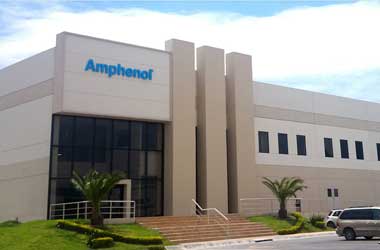 Aided by an increase in demand for electronic goods worldwide, Amphenol Corporation (APH), the designer and manufacturer of high-tech electrical and electronic components, reported more than a 10% rise in the fiscal 2016 net sales, compared to prior year's corresponding quarter.
The quarterly results also exceeded the consensus estimates of analysts. Reflecting the impressive results, the share price of the $18 billion company closed at $58.98, which is not far away from the 12-month high of $60.50. With due consideration to the third-quarter and fiscal 2016 outlook, we forecast the share price to register new 52-week highs in the weeks ahead.
The Wallingford, Connecticut-based company reported a second-quarter net sales of $1.548 billion that was above than the analysts' estimates of $1.515 billion. The net sales for the fiscal 2015 second quarter were $1.351 billion. The increase in the revenue was primarily aided by large inflow of orders from the automotive, data communications and mobile networks markets. During the second-quarter, the currency exchange rate had a negative impact of $9 million in the net sales of the company.
The manufacturer of sensor and sensor based products saw its second-quarter net income rise 15% to $206.5 million, from $179 million in the similar period of 2015. On a per share basis, the quarterly earnings of $0.65 exceeded the Wall Street estimates of $0.63 per share. The Q2 2015 EPS was $0.56.
Amphenol President and CEO, Adam Norwitt also gave the company's outlook for the third-quarter. For the current quarter, the company anticipates sales to be between $1.543 billion and $1.583 billion. For the third-quarter, the EPS is expected to be in the range of $0.67 to $0.69.
For the fiscal 2016, the company raised its sales outlook in the range of $6.120 billion to $6.200 billion, from the prior guidance of $6.080 billion to $6.200 billion. The full year 2016 adjusted EPS is now anticipated to be in the range of $2.60 to $2.64, up from the earlier forecast of $2.56 to $2.62 per share. Thus, considering the upbeat Q2 results and raise in the full year 2016 revenue and earnings guidance, the share price of Amphenol can be fundamentally anticipated to remain in an uptrend during the current quarter.
Having tested the major support of 56, the share price of has risen to test the minor resistance at 60. The RSI indicator shows that the stock remains bullish and the uptrend will continue.
Thus, trading a one touch call option is desirable at this point in time. The binary trader should choose a custom contract with target level of not greater than 66. Furthermore, to increase the chances of success in the option trade, the contract expiry date should be in the third-week of August.