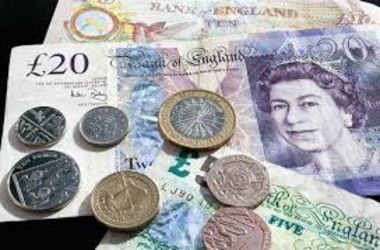 Amidst challenging economic conditions, the British Pound faces increased pressure against both the Euro and the Dollar. Weaker-than-expected UK retail sales and a significant decline in an influential consumer confidence indicator have underscored the ongoing slowdown in the UK economy.
According to the Office for National Statistics (ONS), UK retail sales experienced a 0.9% month-on-month decline in September. This decline exceeded market expectations, which had positioned for a more modest -0.2% decrease. It also marked a sharp reversal from the 0.4% expansion seen in August.
Retail Sales Decline Amidst Gloomy Economic Outlook
Retail sales have now contracted by a full percentage point year-on-year, as of September. Although this figure is a slight improvement from the -1.3% year-on-year reading recorded in August, it still falls short of expectations for a minor contraction of -0.1%.
The initial response from the foreign exchange market was to sell the Pound, as investors continued to support the notion that the UK's economic performance is poised to lag behind that of the United States and the Eurozone. This data aligns with the narrative that the Bank of England may find it feasible to maintain current interest rates in November, a scenario that could exert downward pressure on the Pound.
Consumer Confidence Falls as Cost-of-Living Crisis Deepens
Nicholas Hyett, Investment Manager at Wealth Club, emphasized, "The Bank of England's higher interest rates are designed to squeeze consumers and keep them from splashing the cash too freely. After September's higher than expected inflation numbers, weak retail sales may help convince interest rate setters that they can afford to wait before moving rates up again."
The Pound to Euro exchange rate currently sits 0.86% lower, following a week marked by a series of underwhelming data releases in the UK. It now appears poised to break out of its summer range and revisit levels last observed in May. The Pound to Dollar exchange rate, experiencing a slight decrease of one-quarter of a percent for the week, is currently quoted at 1.2112.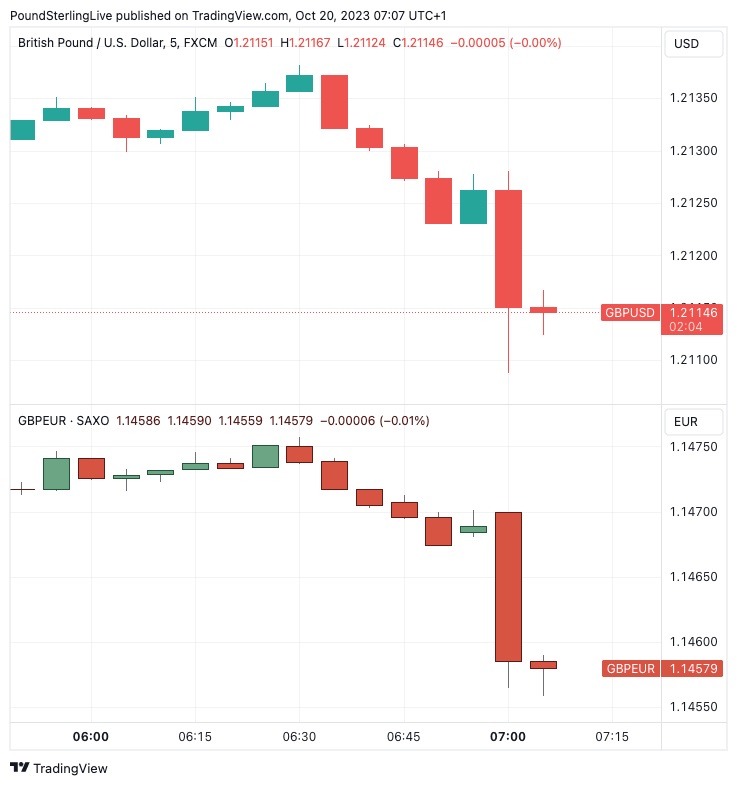 Viraj Patel, a strategist at Vanda Research, commented, "The 1% month-on-month fall in UK retail sales is further evidence of a weak demand backdrop, with wages rising to meet inflation, not the other way around. The decline in goods spending is ominous and extends beyond just the impact of warm weather."
The persistently high inflation has significantly impacted consumer demand in the UK, with retail sales volumes steadily declining from their peak in 2021. Despite this trend, UK consumers are now paying more to acquire fewer goods, as the overall value of retail sales continues to grow.
In an attempt to protect their margins, retailers have resorted to raising prices, resulting in challenges in terms of sector output. This strategy has taken a toll on consumer purchasing power, creating a concerning economic landscape.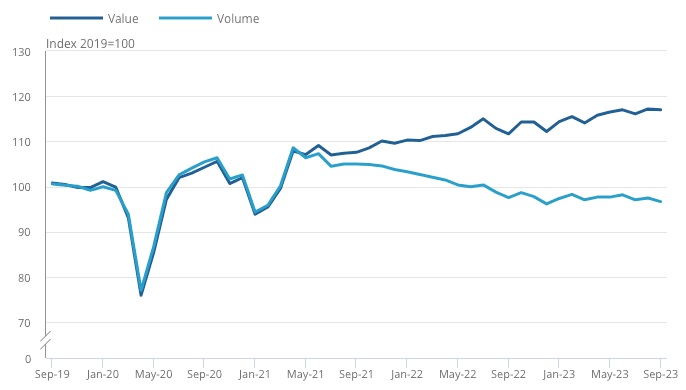 Meanwhile, the GfK consumer confidence survey for October experienced a sharp decline, underscoring the mounting pressure of the cost-of-living crisis and rising interest rates, further signaling a deteriorating economic outlook.
Joe Staton, Client Strategy Director at GfK, noted, "UK consumer confidence has fallen by nine points this month to reach -30, returning to levels seen in July of this year. This substantial decline underscores the cost-of-living crisis, and the struggle to make ends meet."
GfK's long-standing Consumer Confidence Index recorded a nine-point decrease in October, with all five measures showing a decline compared to the previous month's report. Staton highlighted that consumers are currently facing formidable challenges in meeting the costs of essential needs, such as heating homes, fueling vehicles, dealing with surging mortgage and rental rates, and navigating a slowing job market.
Furthermore, the uncertainties stemming from conflicts in the Middle East are adding to the growing unease among consumers. According to GfK's survey, the major purchase measure experienced a sharp 14-point drop, which could raise concerns among retailers in the run-up to the Christmas season.
The combined impact of weak retail sales and declining consumer confidence paints a sobering picture of the UK's economic landscape. As the country grapples with ongoing challenges, the Pound faces increasing pressure against the Euro and the Dollar, with implications for both domestic and international markets.