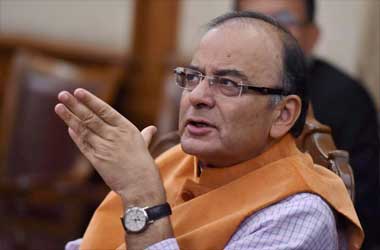 India's finance minister Arun Jaitley who is currently in the United Arab Emirates spoke confidentially of his country's economy and states that adverse global conditions have had an impact but has not managed to dent the country's economic growth. The finance minister stated in the past economic crises used to surface once in a decade or even 15 years but with a fast paced global economy these economic crises are surfacing a lot more frequently.
Jaitley stated that India's exports has taken a hit due to the global economic crisis and the fact that the country has had two poor monsoons meant the agricultural industry had also fallen behind.
One of India's biggest assets according to Jaitley was the amount and quality of human resources available that allowed the country to create and develop multiple products and services in India and also provide top talent to companies outside of India.
Indian Prime Minister Narendra Modi has been accused of spending more time outside the country than inside India as the prime minister has travelled extensively during the last 18 months with a focus of promoting his 'Make in India' campaign and invite foreign companies to set up operations in India and make significant foreign investment. Recently Ernst & Young published a report which rated India Number One Investment Destination In The World. Jaitley believes that these investments will pay strong dividends in the years to come and continue to help India's economy experience a growth curve in the midst of volatile global markets.
The finance minister's two day trip to the UAE was to inaugurate the first UAE-India Economic Forum and to also encourage investors to invest in India. In a statement, Jaitley said
Investment comes in when investors feel confident about the state of the economy and when they feel confident that their investment is safe and will bring adequate returns. We are certainly going to be looking at the investment from here coming into various sectors. The obvious area of attraction for us is going to be the India Infrastructure Investment Fund, which has a sovereign participation.
India and the UAE had maintained a good relationship for over four decades and the UAE hire thousands of Indian's in different sectors to help facilitate growth and expansion. Jaitley once again assured the UAE of India's commitment to working together and building upon their existing relationship to ensure that both countries continue to expand and proper amidst challenging global circumstances.