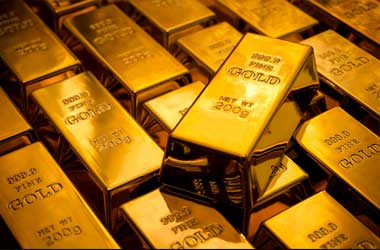 Germany has successfully managed to bring back 674 tons of gold that it had stashed away in New York and Paris during the cold war era. The German central bank, Bundesbank repatriated 53,780 gold bars over a four year period from the vaults of the New York Federal Reserve and the French central bank. The gold bars weigh 12.5kg each and are worth €440,000.
Germany had built up gold reserves with central banks abroad in the aftermath of the second world war when its exports boomed in a reviving economy. The country stashed it with foreign central banks during the cold war due to fears of a Russian invasion through East Germany.
The Bundesbank announced its plan to repatriate the gold in 2013 after it emerged that there were widespread concerns among the German public regarding the nation's wealth being stored outside the country.
CNBC
As the issue became high profile, the German Federal Court of Auditors ordered in 2012 that an inspection of foreign gold reserves be carried out. The central bank tried to assuage worries stating that it received annual updates from foreign central banks regarding the stockpile. The following year however the Bundesbank announced that it will begin the process of bringing back reserves worth €7.7 million in order to restore public trust. The process started in 2013 and has been completed two years in advance.
The central bank said that it had taken care to exhaustively check the gold bars to ensure that there were no issues. In a statement the Bundesbank said
No irregularities came to light with regard to the authenticity, fineness or weight of the bars
In an earlier operation, the Budesbank had repatriated 940 tons of gold from London back into the country to save on storekeeping costs. Germany currently holds 1,710 tons of its bullion reserves in Frankfurt which is around 50 percent of its total reserves which amounts to 3,374 tons. Germany has the second largest gold reserves while the U.S. tops with 8,134 tons.
A third of the Germany's reserves is still stored with the New York Federal Reserve as the U.S. dollar remains the gold currency. Around 13 percent of the reserves will remain with London, which is the largest market for selling gold.
There are some reports circulating amongst local media which say that Germany might possibly need to hold its bullion reserve in the country in order to back a new deutsche mark, incase the euro breaks up anytime.