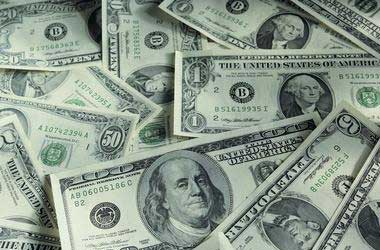 The speculation of a Fed rate hike resulted in an uptrend in the USDZAR pair, which hit a high of 15.9818 on May 19th . The impeachment proceedings against the South African President, Jacob Zuma, also aided the rise of the USDZAR pair. However, last week, the weak nonfarm payrolls data triggered a decline in the USDZAR pair. The USDZAR, which closed at 15.0680 on Friday, is expected to fall further due to the reasons mentioned below.
The US nonfarm payrolls data, released on Friday, showed that only 38,000 jobs were added in May, compared to the analysts' expectations of 159,000. The number of nonfarm jobs added in April was 123,000 (revised from the previous data of 160,000).
A poll conducted by Reuters, soon after the announcement, indicated that all the analysts now believe that the Fed will not go for a rate hike in June. Such a view has led to a bearish sentiment on the US dollar.
Bloomberg
In the meantime, the international rating agency Standard & Poor maintained its investment-grade rating of BBB- for South Africa. A month ago, Moody made a similar decision to confirm the Baa2 rating of South Africa. The re-appointment of Pravin Gordhan, as the Finance Minister, is widely perceived as a positive change. Gordhan served as the Finance Minister between 2009 and 2014. His reinstatement followed the dismissal of two Finance Ministers within a gap of five days.
Moody and S&P's current rating of South Africa are just a notch above the junk status. Moody, while releasing the report, stated that years of poor economic growth seem to be over and the fiscal 2016-17 budget along with the economic reforms would likely bring down the government debt.
Another major rating agency Fitch is expected to provide its review this week. Market participants believe that Fitch will take a decision similar to the rest of the agencies. This would further strengthen the South African Rand against the US dollar.
To benefit from the decline, a currency trader should go short near 15.10. A stop loss order should be placed above 15.60. The take profit level for the trade is 14.25.
A binary trader should use the opportunity to make profit by purchasing a one touch put option contract. The target level for the trade should be selected from a range of 14.20 to 14.50. Likewise, an expiry date in the first week of July would ensure success in the trade.