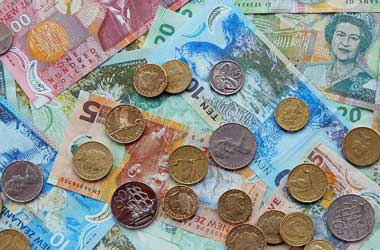 The uncertainty in the Fed rate hike and higher than expected unemployment rate of 4.9% in July kept the Greenback lower against several currencies, including the New Zealand dollar, for most of August.
However, the widening of trade deficit, rate cut announced in the second-week of August, and hint of probable rate cuts in the future begins to weaken the New Zealand dollar.
The US dollar, on the other hand, may consolidate and strengthen in the coming weeks due to the statement made by the San Francisco Fed President in support of a rate hike in September.
Fox Business
During the monetary policy meeting held in the second week of August, the Reserve Bank of New Zealand (RBNZ) slashed the benchmark interest rate by 25 basis points to 2%. The RBNZ resorted to rate cut due to low inflation rate concerns. The current inflation rate of 0.4% is below the RBNZ's long-term inflation rate target of between 1% and 3%.
The country is also facing overheated housing market, which threatens another 2008 subprime mortgage crisis kind of scenario. The RBNZ Governor Graeme Wheeler also stated that further monetary easing is necessary to achieve the inflation rate objective. This means that we will certainly see more rate cuts later in the year. Ultimately, this would keep the New Zealand dollar under pressure.
The Statistics New Zealand reported that the trade deficit widened to $433 million in July, from $110 million in the previous month. The reported trade deficit was higher than the analysts' estimate of $320 million.
In the US, the San Francisco Fed President John Williams warned that the economy may overheat if there is too much delay in implementing the rate hike. Williams does not have a voting right on the Fed policy this year. However, the market will give due consideration to his words as he is closer to Fed Chair Janet Yellen, who previously served as the San Francisco Fed President. Thus, we believe that the NZD/USD pair will begin its downward journey soon.
The historic chart indicates that the currency pair may face stiff resistance at 0.7360. On the lower side, major support exists at 0.7205. The stochastic indicator's reading of about 85 reflects an overbought condition.
Thus, it is better for a Forex trader to initiate a short position near 0.7330. To protect the capital, a stop loss order can be placed above 0.7390. The short position can be closed when the currency pair falls to 0.7190 levels. The trade carries an acceptable risk to reward ratio of 1:2.
Similarly, a one touch put option trade can be taken by a binary trader to gain from the probable decline of the NZD/USD pair. The one touch target price should be certainly above 0.7200. Likewise, the expiry date of the contract should be between the 20th and 27th of September.