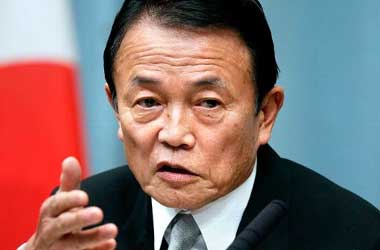 Japanese Finance Minister Taro Aso has once again expressed concern over the strengthening of the yen against the US dollar, after the yen jumped to an 18-month high earlier this week.
The yen has been steadily rising, reaching 106.76 against the dollar after the Bank of Japan decided to hold steady on its interest rate policy against market expectations. Over this year, the yen has risen by as much as 13 percent against the dollar.
Japan's authorities have not intervened in the foreign-exchange market for over 4 years, instead preferring to issue verbal warnings. In one such warning last week, Aso said that the yen's movements in the market were under scrutiny and action would be taken if the need arises. He observed that a 5-yen movement within two days was clearly a one-sided speculative change.
The warning by Aso came even as the U.S. Treasury Department put Japan on a currency watch list report. The currency watch list names the currencies which seem to have price movements that might give them an unfair trade advantage over America.
In a statement, Krishna Guha, vice chairman of Evercore ISI in Washington said,
The irony is that the U.S. Treasury's intervention may well ultimately backfire by undermining the credibility of Japan's ongoing jawboning and making it more likely that the yen is driven to a level at which Tokyo does have to step in and actually conduct FX intervention.
Aso has said that the report in no way comes in the way of Japan taking corrective measures. The country has made it clear on earlier occasions as well that it considers it acceptable within the framework of an agreement by the G-20 to take measures to handle a strengthening yen. However local media reports have quoted former key currency official Naoyuki Shinohara as saying that the Group of Seven might not accept Japan intervening in the currency markets.
The members of the Group of 20 have entered into an agreement to refrain from carrying out competitive devaluations. Aso however has said that any country would find abnormal currency movements undesirable and therefore can take suitable action.
Bank of Japan Governor Haruhiko Kuroda has also highlighted the ill-effects of the yen strengthening, saying that it hampered Japan's economic recovery. Kuroda said that the central bank is focusing on the price stability and would take further steps to ease the pressure if required to meet its inflation target.