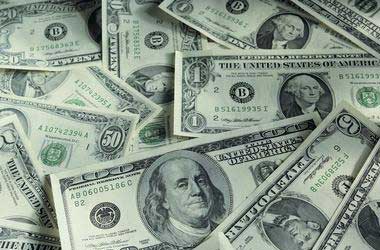 Rating agency Fitch has downwardly revised the US sovereign ratings outlook to negative from stable, while affirming the debt grade at AAA, mainly due to worsening state finances and lack of dependable fiscal strengthening strategy.
These issues have been underscored in the rating agency's earlier rating evaluation report on March 26, 2020. Standard & Poor's had given a credit rating of 'Aaa.' Likewise, DBRS (a global rating agency owned by Morning Star) credit rating for the US is AAA with stable outlook.
The dollar index regained early losses Friday to trade above 93, but still closed with a 4.2% month loss, reflecting the sharpest monthly decline since September 2010, against the backdrop of fresh worries about the robustness of economic rebound in the US and the country's capability to manage the pandemic.
The economy contracted at a record rate in Q2 and initial unemployment claims rose for second consecutive week. The US President Trump's proposal to postpone the November election also had turned investors' mood bearish. In the meantime, the Fed is anticipated to maintain benchmark rates near zero percent for some time, citing risks posed to economy by the Covid-19 pandemic.
In the US, coronavirus infected cases are nearing 4.50 million and over 150,000 people have already lost their lives. Recent economic data indicated that inflation adjusted consumer spending increased, but stood below pre-pandemic reading.
Personal spending in the US rose by 5.6% m-o-m in June, following an upwardly altered 8.5% increase in May, the biggest on record. Economists were anticipating an increase of 5.5%. In value terms, real consumption increased $623 billion, mirroring a rise of $273.70 billion in expenses on goods and a $362.10 billion growth in service related expenses.
A further breakup of goods segment indicates that clothing & footwear delivered the biggest increase. Likewise, a breakup on services indicates that health care, accommodations and food services were the biggest contributors. Under health care, both outpatient and hospital services recorded growth.
The US personal income declined 1.1% m-o-m in June, following an amended 4.4% slump in May and worse than economists' expectations for a 0.5% decrease. The decline was led by lower government sponsored social benefits as money handed over to individuals on the basis of federal economic recovery schemes in relation to the Covid-19 pandemic carried on at a lower scale in May.
Employee compensation expenses in the US grew 0.5% q-o-q in the second-quarter, slightly lower than the 0.8% growth recorded in the earlier period. It was the smallest increase since Q2 2017 and compares with market anticipations for a 0.6% rise.
Wages and salaries increased 0.4%, but more than 50% lower than the 0.9% growth in 1Q20. Benefit expenses increased 0.8%, higher than the 0.4% increase recorded in the earlier period.
Brent crude futures closed at $43.30 per barrel, reflecting a gain of 0.9%. WTI crude futures also rallied 0.9% to close at $40.30 a barrel on Friday, recording a third consecutive month of gains assisted by a shaky dollar and a document from the US Energy Information Administration indicating that US crude oil production plunged at a record rate in May.
Additionally, investors turned bullish on the news that factory activity in China increased for the fifth consecutive month and expected additional stimulus in the US after government info indicated that the economy crumbled 32.0% y-o-y in the June quarter.
Nevertheless, the rebound may not hold for a long time as OPEC+ has started boosting output by 1.50 million barrels per day at the end of this week.