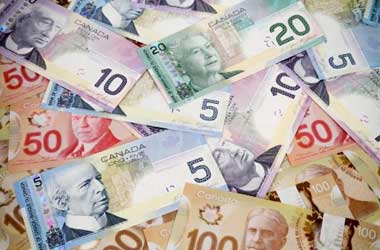 Because of the overall weakening of the dollar and the fact that oil prices have stayed around multi-year highs, the Canadian dollar strengthened below 1.24 per US dollar in the second half of October, approaching levels that have not been seen since early July.
As demand for oil grows amidst natural gas and coal bottlenecks, and as the Organization of Petroleum Exporting Countries (OPEC) and its allies struggle to fulfill production limits, WTI crude futures have maintained levels over $82 a barrel, the highest level since 2014.
While this was going on, a Bank of Canada poll revealed that companies were optimistic about the demand outlook, and that they expected to raise prices in the future. Finally, encouraging employment data bolstered the argument for a further reduction in the Bank of Canada's bond-buying program before the end of October.
After rising to 4.1 percent in August, the annual inflation rate in Canada increased faster than the market's forecasts, reaching 4.4 percent in September 2021 from 4.1 percent in August. As a result of supply chain problems and low base year impacts, the inflation rate reached its highest level since February 2003.
Prices increased in all eight major components, with the most significant higher pressure coming from transportation (9.1 percent compared to 8.7 percent in August), of which gasoline (32.8 percent compared to 32.5 percent) was the most significant contributor to the total rise.
In addition, there were substantial rises in the cost of housing (4.8 percent, unaltered from August) and food (4.8 percent, the same as in August) (3.9 percent vs 2.7 percent). With gasoline excluded, the CPI increased by 3.5 percent in September, compared to 3.2 percent in August.
Consumer prices increased by 0.2 percent on a monthly basis, the same rate as the previous month, but somewhat higher than market expectations of a 0.1 percent rise. Since April 2020, foreign investors have purchased a total of CAD 26.3 billion in Canadian assets. The majority of these purchases have been in the form of debt securities issued by the federal government and chartered banks, which accounted for 80% of total purchases in August 2021.
Canadian investors, on the other hand, boosted their holdings of international assets by CAD 15.2 billion, after a sale of CAD 4.7 billion in foreign securities in the previous month. CAD 9.4 billion of US shares were added to the portfolio of Canadian investors in August, while the amount of non-US foreign shares was decreased by CAD 1.4 billion. Canadian investors' purchases of foreign securities in August were equally distributed between bonds and equities, with CAD 9.4 billion of US shares being added to the portfolio of Canadian investors.
The bonds bought amounted to CAD 7.1 billion, with CAD 3.5 billion going to non-US foreign bonds, marking the biggest investment since September of 2020. As a consequence, foreign securities transactions produced a net inflow of money into the Canadian economy of CAD 11.1 billion in August, after a net inflow of funds into the Canadian economy of CAD 18.7 billion in July.