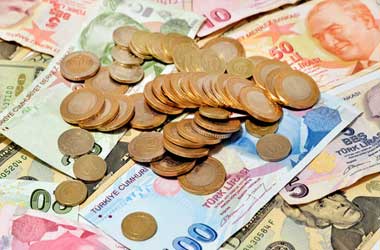 The Turkish lira depreciated above 10 versus the US dollar in the second week of November, setting a new record low, as fears rose that the central bank will lower interest rates further despite growing inflation and general dollar strength fueled by expectations of tighter monetary policy in the US. Turkey's consumer price inflation rate surged to 19.89 percent in October, the highest since early 2019 and far beyond the central bank's target of 5 percent, pushing real rates even lower.
Despite rising inflation expectations, officials are planning to lower the one-week repo rate by 100 basis points on November 18th. The bank has already reduced the policy rate by 300 basis points, undermining the credibility of monetary policy. Turkey's industrial production growth slowed to 8.9 percent year on year in September 2021, down from an upwardly revised 14.0 percent the previous month and falling short of market estimates of 10.0 percent.
This was the lowest result since September 2020, as output rose at a slower pace for capital goods (3.9 percent vs 20.5 percent in August), intermediate goods (13.2 percent vs 15.6 percent), nondurable consumer goods (8.4 percent vs 10.2 percent), and energy (1.5 percent vs 9.3 percent). Meanwhile, the manufacturing of durable consumer products increased at a faster rate (10.7 percent vs 8.6 percent). Industrial activity declined by 1.5 percent on a seasonally adjusted basis, following an upwardly revised 5.6 percent growth in August.
In September 2021, retail sales in Turkey increased 15.9 percent year on year, steady from an upwardly revised figure in August. Non-food product sales increased softer (24.2 percent compared. 24.3 percent in August) as did food, beverages, and tobacco (6.7 percent vs. 7.9 percent), although vehicle fuel sales increased faster (7.4 percent vs 7.0 percent). Retail sales up 1.2 percent on a seasonally adjusted monthly basis, following an upwardly revised 0.9 percent increase the previous month.
Turkey achieved a USD 1.7 billion current account surplus in September 2021, compared to a USD 2.3 billion loss in the same month the previous year, confirming market forecasts. It was the second consecutive month of current account surplus, with the services account surplus increasing to USD 3.7 billion from USD 1.8 billion a year earlier and the goods account gap decreasing to USD 1.0 billion from USD 3.8 billion.
Meanwhile, the secondary income surplus fell from USD 0.20 billion to USD 0.04 billion, while the primary income shortfall increased from USD 0.53 billion to USD 1.03 billion. Turkey's seasonally adjusted unemployment rate decreased to 11.5 percent in September 2021, from a downwardly revised 11.8 percent the previous month, the lowest percentage since June. Meanwhile, the labor-force participation rate increased to 51.7 percent in September, up from 51.2 percent in August. Meanwhile, the seasonally adjusted rate of labour underutilization increased by 0.2 percentage point to 21.9 percent.
Due to continued global supply chain challenges, Turkey's producer price inflation increased to 46.31 percent year on year in October 2021, up from 43.96 percent the previous month. Energy (72.63 percent vs 62.40 percent in September), intermediate goods (53.2 percent against 51.6 percent), non-durable consumer goods (31.47 percent vs 30.5 percent), durable consumer goods (29.13 percent vs 29.30 percent), and capital goods all climbed faster (26.72 percent vs 26.30 percent).
Producer prices grew 5.24 percent on a monthly basis in October, rising substantially from a 1.55 percent increase in September. The annual inflation rate in Turkey increased to 19.89 percent in October 2021, the most since January 2019, but below market expectations of 20.4 percent, as the currency remained under pressure at record low levels and energy expenses rose.
Food and non-alcoholic beverages (27.41 percent); hotels, cafes, and restaurants (25.23 percent); furnishings and domestic equipment (23.03 percent); housing (21.3 percent); and transportation (21.3 percent) were the main price increases (20.67 percent ). Consumer prices increased 2.39 percent on a monthly basis, the most since October 2018. The Istanbul Chamber of Industry Turkey Manufacturing PMI decreased to 51.2 in October 2021 from 52.5 the previous month, indicating a fifth consecutive month of increase but at the slowest pace in the current sequence. For the first time in five months, output growth slowed, owing to challenges obtaining inputs and unfavorable currency swings.
Meanwhile, new orders have decreased, if somewhat, due to a shortage of electronic components. New export orders, on the other hand, have continued to grow at a steady pace. Input costs rose at the quickest rate in three months, owing to raw material supply difficulties and currency depreciation. As a result, production price inflation has reached its highest level since September 2018.