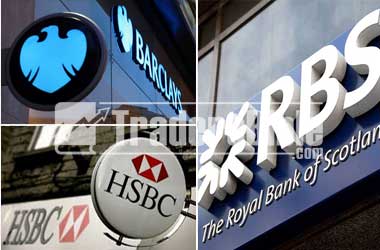 Some of the biggest banks in the United Kingdom have been in the news this year for malpractices that violated norms in the United States. Barclays, HSBC and the Royal Bank of Scotland admitted to the allegations and in the end agreed to pay hefty fines for their malpractices.
HSBC has agree to pay out $285 million, the Royal Bank of Scotland will pay $255 million and Barclays will pay the biggest fine fixed at $384 million making the total amount in fines over $900 million. These hefty fines have made a serious impact on the revenues for all three banks who are currently looking to cut bank on their overhead and even reduce their number of employees.
AFP news agency
All three banks could be hit with yet another lawsuit this time around from UK investors who want to sue the banks for forex violations. Investors could end up suing all three banks for manipulating foreign exchange markets and hit them with a lawsuit that could end up causing them to pay even bigger fines. Investors in the UK have hired lawfirm Scott+Scott to file a case against forex violations and manipulation of hedge and pension funds.
In a statement, David R Scott, managing partner of Scott+Scott said
We look forward to presenting these momentous settlement agreements to the federal court for approval but our work is far from done. Given our in-depth knowledge based on our success against the banks in the US, Scott+Scott is gearing up to bring the action to Europe. Compensation figures today should serve as an indication of the scale of the potential European action as the UK [foreign exchange] market is almost double the size of that in the US.
The potential lawsuit from UK investors will be separate from the legal proceedings that the US and the Serious Fraud Office are looking into. These three banks will now have to co-operate with Scott+Scott and provide them with a lot of information such as documentation, depositions, witness interviews, descriptions of their actions and trial testimonies. The banks will also have to provide full cooperation against all lenders who are yet to settle such claims.
The 2015 Finance Magnates' London Summit will provide a detailed look into the forex fixing scandal and provide in-depth information into the regulatory fines imposed. These three banks could potential end up with lawsuits in the UK, Europe and even Asia which could be devastating to the banks financial standing.