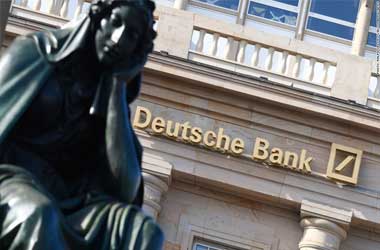 The global banking industry has received a lot of flak in recent years for their lack of concern in enforcing and following anti-money laundering (AML) laws. The latest bank that has suffered due to money laundering allegations is popular Germany bank – Deutsche Bank.
Deutsche Bank was raided by as many 170 German officials due to money laundering allegations. Stemming from the leak of the Panama Papers in 2016, the authorities have been investigating the bank. The recent raid had to do with the bank's activities between 2013 to 2018.
The investigation is focusing on two main suspects who are aged 54 and 50 respectively. Reports suggest that one of these suspects is part of the bank's anti-financial crime office. The investigation mainly focused on Deutsche Bank's branch in the British Virgin Islands. It was revealed that this branch processed the equivalent of around $354 million in euros in 2016.
DW English
This raid and on-going investigation are two more headaches for Deutsche Bank's senior leaders, namely new CEO Christian Sewing and chairman Paul Achleitner. The bank has already faced a significant decline in share prices this year and now another three percent has been lost this week. Additionally, insurance for the bank's junior debt has gone up in light of these matters and now costs 384 basis points, the highest it has been in two years.
Analysts think that this investigation and raid will cripple the bank for many months as Deutsche Bank now has it works cut out as it tries to recover from both the PR hit and legal ramifications. The bank may also face a crisis of leadership soon as shareholders look for someone who can navigate the bank through treacherous waters better than chairman Achleitner, who has notably been slow in reacting to the crises.
Deutsche Bank Paid $18 Billion In Fines
Deutsche Bank's troubles started in 2016 when the Panama Papers leak revealed that it was linked to a Cypriot lender named in the papers. The bank quickly cut ties but the damage was done and an investigation was started. The investigation revealed that the bank had helped set-up off-shore accounts for clients and was the starting point for deeper inquiries.
Deutsche Bank has already faced a number of setbacks in the last decade and this raid has only made things worse for the German bank. The bank has been paying fines since 2008 for its involvement in various financial scandals with $18 billion being paid out in total.