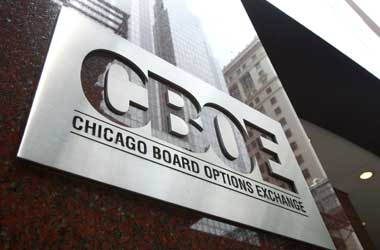 It is bad news for investors who want to play around bitcoin futures. The Chicago Board Options Exchange (CBOE) has made a formal announcement that it will not be renewing its Bitcoin (BTC) futures contract. This is a devastating blow to those who were hoping that bitcoin futures and similar market products would grow in popularity and boost the bitcoin market.
CBOE's Bitcoin Futures contract was first launched back in Dec 11, 2017, during the height of the bitcoin boom. However, it will last for only 15 months as it is set to expire in June 2019 and CBOE is not interested in any renewal option.
CNBC
This can potentially affect the volume of bitcoin trades. This is because when these futures contracts expire, analysts expect a bit of a surge in the coming months as these trades are settled with cash. The CBOE futures product was mainly in competition with another futures derivative product from the Chicago Mercantile Exchange (CME).
These futures contracts were projected as a great way for larger investment firms to start speculating with bitcoin. With futures, investors don't actually have to hold bitcoin to benefit from them, which eliminate a lot of the risk in the equation.
The XBT contracts, which is the CBOE product is mainly for one bitcoin each. On the other hand, CME's bitcoin contracts are for five bitcoin each. This difference is what experts point out as the main reason why CME's product is drawing in more investors despite bitcoin's rather dismal performance in 2018. CBOE blamed its non-renewal on low volume of trading, which made the contracts low earners instead of being the high earners as they were expected to be.
Bad Time For BTC Trading
The CBOE has been pushing hard for a physically-backed Bitcoin Exchange Traded Fund (ETF). However, the company has so far been unsuccessful in getting permission. Its efforts have been pretty noticeable in 2018 when it partnered up with VanEyck and SolidX to try and push for a change in regulations that would allow for ETFs.
The U.S. Securities and Exchange Commission (SEC) received several Bitcoin ETF proposals from a wide variety of investment firms in 2018. The SEC's response has mainly been to reject or delay all of them. Experts think that the SEC is playing hardball with the current crop of proposals, though some note that bitcoin ETFs need to be airtight to ensure that they are safe investment products.