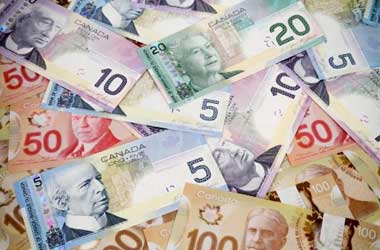 The Canadian dollar hit a one month high of 87.55 against the Japanese yen following the release of solid economic data from Canada and crude oil price rally. The CAD/JPY pair's uptrend was also stoked up by the report of 11-th consecutive monthly consumer price decline and drop in manufacturing PMI in Japan. Furthermore, the Fed's plan to reduce bond buying program as early as November also weakened the yen. After hitting a low of 84.89, the CAD/JPY pair reversed trend to close Friday's trading session at 87.48.
A series of positive developments propelled the loonie last week. Canada's government budget deficit narrowed to C$11.980 billion in July 2021, from C$28.228 billion in the corresponding period last year. Revenues rose by 35.90% to C$29.30 billion, led by a 24.10% rise in taxes to C$24.90 billion.
During the same period, expenses declined by 19% to 38 billion, led by a 29.40% drop in straight forward program expenses to C$16.70 billion and a 11.10% decline in key transfers to individuals to C$14.90 billion. The country's deficit in 1Q21 narrowed to C$48.50 billion, from C$148.60 billion in 1Q20.
New home prices in Canada rose by 0.70% m-o-m in August, reflecting a gain in momentum after signaling slowdown for three consecutive months. On annualized basis, prices of new houses surged 12.20% in August, reflecting the sharpest increase and carrying on with an upward move that started in December 2020.
Crude oil prices gained ground Friday, backed by rising fuel demand and a better-than-anticipated decline in the US inventories as the production faces issues after the two hurricanes that hit the Gulf of Mexico. While Brent crude gained $0.84 or 1.09% to close at $78.09, West Texas Intermediate (WTI) gained $0.68 or 0.93% to close at $73.98. As per the latest inventory report by the US Energy Information Administration, the crude stocks declined by 3.50 million barrels to 414 million (September 17), the lowest since October 2018.
Oil also received support indirectly from many members of the Organization of the Petroleum Exporting Countries (OPEC) and associates, together referred to as OPEC+, struggling lately to increase production due to several years of under-investment or postponements of maintenance jobs due to Covid-19 pandemic.
Last week, Iraq's oil minister stated that he was doing the needful to retain crude prices near $70 per barrel as the worldwide economy rebounds. The group is scheduled to meet again on October 4. The crude oil market was also fueled by revival of appetite for risky assets as worries decreased over a likely short-term default by Chinese real estate company Evergrande on dollar bonds.
In Japan, the au Jibun Bank Japan Manufacturing PMI dropped to 51.20 in September 2021, from 52.70 in August, as per preliminary reading. The reported reading reflects the weakest growth in industrial activity since the December 2020 contraction, against the backdrop of interruptions of supply chain due to the quick spread of the Delta version and also the worldwide semiconductor chip scarcity. Output declined to the lowest level in a year as aggregate fresh orders declined at a rapid rate in 10 months. In the meanwhile, employment increased at the robust pace since January 2020. Eventually, business confidence strengthened, against the backdrop of acceleration in vaccinations.
Japan's consumer prices fell by 0.40% y-o-y in August 2021, following a 0.30% decline in the prior month. Notably, the figure represents the 11th consecutive month of decline in consumer prices, against the backdrop of declining consumption due to the prevailing Covid-19 pandemic. Food prices declined 1.10%, the maximum in four months, following a 0.60% drop in July. Additionally, cost of transportation & communication fell by 6.60% in August, versus 5.40% in July, against the backdrop of a slower drop in prices of medical care (-0.10% against -0.50%).
On the other hand, housing costs inched higher by 0.70%, compared with 0.60%. Fuel, light and water charges grew 2.50% in August, compared with 2.20%. Furniture and household utensils increased 2.90%, versus 2.40%. Culture & recreation rose by 3.70% in August, following an increase of 1.90% in July. Education grew 1.20% in August, from 1.10% in the prior month. Core consumer prices, devoid of fresh food, remained flat in August, in accordance with forecasts and halting a drop for the first time in 13 months. On m-o-m basis, consumer prices declined 0.20%, following a 0.20% increase in June.