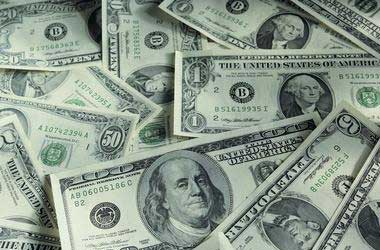 The US dollar index increased to 97 Friday against a bouquet of currencies following the release of upbeat non-farm payroll data for May.
Furthermore, unemployment rate fell to 13.3% following a record high unemployment in April. The US dollar index, however, lost 1.4% for the week, reflecting the third successive weekly decrease.
The US economy recorded an addition of 2.50 million jobs in May, reflecting the largest monthly gain, and surpassing economists' expectations for an 8 million job losses.
Following the impressive non-farm payroll data, the Dow Jones surged 829 points (3.2%) to 27,111. The Nasdaq Composite hit all-time high, surging 198 points (2.1%) to 9814 and recording a new intraday high.
The S&P 500 jumped 82 points (2.6%) to 3194. For the week, the Dow rose 6.8%, S&P rallied 4.9% and the Nasdaq gained 3.4%.
Consumer credit in the US dropped by $68.70 billion in April, after decreasing by a downwardly amended $12 billion in March, and worse than markets anticipations of a $20 billion decrease.
It was the second decline since August 2011, as revolving credit (along with credit card loans) fell by $58.30 billion after decreasing by a downwardly amended $21.50 billion in the earlier month.
Furthermore, non-revolving credit, including education and automobile loans, decreased by $10.50 billion after a downwardly amended $16.10 billion in March. On y-o-y basis, credit shrank sharply by 19.6% in April, after decreasing 3.3% in the prior month.
US neighbor Canada's statistical organization also reported an upbeat employment data. The economy added 289,600 jobs in May backing investor's positive sentiment about rebound in economic activity.
Furthermore, crude oil rally has turned the overall sentiment to positive as OPEC+ is scheduled to meet today to decide on the extension of the 9.70 million barrels per day production cut until the end of next month.
Brent crude futures rose 5% to close at $41.94 per barrel Friday, the highest level since March 6, before the commencement of the OPEC+ meeting via video conference to debate on additional extensions to the prevailing production cut agreement.
Investors have turned hopeful after Saudi Arabia led OPEC+ and Russia have agreed to extend crude oil production cuts by another month.
Furthermore, a stronger-than-anticipated US payroll report has turned the sentiment bullish regarding crude oil demand recovery. Brent crude ended the week with a 10.8% gain.