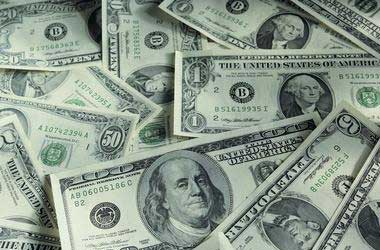 The dollar index rose to 93.4 Friday after the US employment data indicated that the economy added better-than-anticipated jobs in July 2020.
Furthermore, the demand for safe-haven assets rose on resumed strains between the US and China after President Donald Trump issued blanket ban on dealings with Chinese apps such as Tencent's WeChat and ByteDance's Tiktok.
During the same period, investors were looking for a Covid-19 stimulus package to be endorsed by Democrats and White House.
Last month, the US economy added 1.76 million jobs, which is almost 1/3rd of the 4.8 million jobs added in the earlier month as a revival in Covid-19 cases affected the labor market rebound.
Nevertheless, the reading surpassed market anticipations for a 1.6 million increase, with job opportunities in tourism and hospitality rising by 592,000 (representing roughly about one-third of the gain), and with government employment increasing by 301,000.
Normally, public-sector education related employment decreases in July, but declines happened in the beginning of 2020 due to pandemic, causing remarkably huge rises in local (215,000) and state government (30,000) employment opportunities. Additionally, the federal government hired 27,000 temporary workers.
Other sectors that contributed to employment increase include retail trade, business and professional services, and healthcare. Non-farm jobs stood 12.90 million below pre-pandemic February level.
Wholesale inventories fell 1.4% m-o-m to $633.30 million in July, following a 1.2% slump in May and compared with initial forecasts for a 2% drop. Stocks of durable goods dropped 1.7%, lower than earlier estimates for a 2.1% decline, with stocks of metals (-3%) and professional machinery (-3.6%) declining the maximum. Non-durable goods decreased 1%, below initial estimates calling for a 1.7% drop, with apparel (-6.5%) posting the maximum decrease.
According to US non-farm payrolls data, average hourly earnings of employees increased by $0.07 or 0.2% to $29.30 in July, compared with market anticipations of a 0.5% drop and following a 1.3% decrease in June.
However, average hourly earnings of private sector non-supervisory and production employees fell $0.11 to $24.63 in July.
Notably, consumer credit increased $8.95 billion in June, after falling by $18.2 billion in the earlier month, missing economists' anticipation of a $10 billion rise.
Total revolving credit fell by $2.3 billion after decreasing by $24.7 billion in May.
However, non-revolving credit rose by $11.3 billion after increasing $10.3 billion in the prior month. On y-o-y basis, consumer credit inched upwards by 2.6% after falling 4.2% in the earlier month.
Following the employment data, the yield on the 10-year Treasury note increased to 0.549% Friday. Likewise, the yield on 30-year Treasury note increase to 1.214%. On August 1, the 10-year Treasure note touched a 234 year low of 0.520.
The news of US government considering sanction against Hong Kong Chief Lam for vigorous measures against protestors also increased the demand for the US dollar, a safe haven asset.