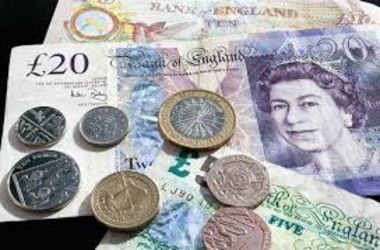 The Pound's recent fluctuations were brought on by the Bank of England's November interest rate decision and guidance update. The Bank's Governor, Andrew Bailey, has responded to mounting expectations of rate cuts by the third quarter of 2024, indicating a shift in market sentiment.
During a television interview following the Bank's interest rate decision, Bailey addressed these concerns indirectly, stating that if the market has inferred a leaning towards more rate cuts from their recent publications, he would oppose that notion. This statement was a reaction to growing expectations of a rate cut, which had an immediate impact on currency markets.
Pound Gains Ground Amidst Market Uncertainty
Consequently, the British Pound depreciated against the Euro and saw a decline in its value against the Dollar as the Bank opted to maintain interest rates at 5.25% and signaled the possibility of further rate hikes in the future. Despite the Bank's intention to communicate a 'higher for longer' stance, financial markets began anticipating the possibility of the first rate cut as early as September 2024.
As expectations of rate cuts advanced, UK bond values saw an upswing, causing yields to drop and exerting downward pressure on the Pound. The Bank, while keeping interest rates unchanged, expressed its discomfort with any perception that lower rates were imminent.
Market Expectations and Monetary Policy Impacts Analyzed
This unintended loosening of UK financial conditions through falling bond yields, which reduce the cost of borrowing, poses a risk of triggering fresh inflationary pressures. This could undermine the Bank's efforts to bring inflation back to its 2.0% target in a timely manner.
Bailey emphasized that it was "much too early" to engage in discussions regarding the timing of interest rate reductions. Despite the Bank's statement that "monetary policy is likely to need to be restrictive for an extended period," market participants scoured for any hints to the contrary.
The Bank's decision to revise its growth forecasts downward was quickly identified by traders as evidence that inflation forecasts might be overstated. This gave rise to speculation that rate cuts might occur sooner than previously anticipated, with the potential for reductions as early as the third quarter of 2023.
The Bank adjusted its growth forecasts for 2024 from 0.50% to 0%, reflecting a more cautious outlook. In light of these developments, traders are now pricing in the first rate cut in September 2024, followed by another rate reduction by the year's end.
In response to these market developments, Bailey emphasized that "we still see the risks to inflation as being on the upside at the moment," highlighting the importance of not losing sight of this message. This underscores the Bank's commitment to managing inflationary pressures.
Throughout this period of uncertainty, the Pound's performance has been closely monitored in currency markets. On Thursday, the Pound to Euro exchange rate reached as low as 1.1446 but has since made a partial recovery, currently standing at 1.1477. Similarly, the Pound to Dollar exchange rate recorded a low at 1.2140 and has since regained some ground, now trading at 1.2198.
In conclusion, the Bank of England's recent stance on interest rates has created waves in the financial markets, prompting speculation and uncertainty about the future direction of monetary policy. Governor Andrew Bailey's indirect response to market expectations has left room for interpretation, and traders are closely watching economic data and inflation dynamics for further clues on the Bank's future actions. The Pound's resilience in the face of these uncertainties reflects the ongoing market response to these developments.