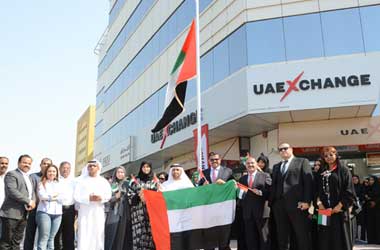 The UAE Exchange which is one of the most popular exchanges in the world recently announced that it has signed a deal with Ripple (creator of the cryptocurrency XRP) to incorporate Ripple's blockchain technology into UAE Exchange's payment system.
UAE is amongst the oldest remittance companies in the world, doing business mainly in India and the Middle East. The Exchange currently has over 800 outlets in 31 different countries. Ripple was established in 2012 and has gained a lot of attention in recent times, thanks to the skyrocketing popularity of cryptocurrencies in 2017.
Promoth Manghat who is the CEO of UAE Exchange said the company views this deal as the upmost importance. According to Manghat the deal allows UAE Exchange to keep up with modern trends in money exchange while help with the speed and cost of cross-border transactions.
Manghat goes on to say that while the blockchain technology may not be completely visible to the average everyday consumer, its benefits will be felt by the efficiencies the technology will bring. As of now it is now clear if UAE Exchange will use XRP or just integrate Ripple's underlying blockchain as a way to quickly and safely facilitate international money transfers. At the time neither Ripple nor UAE Exchange has officially commented on the exact specifics of the deal.
In a statement, Ripple's Dilip Rao said
Adding a market leader like UAE Exchange to RippleNet will bring instant, certain, low-cost payments to the millions of retail customers in the UAE who send money abroad
With this new deal, UAE Exchange will now become a member of RippleNet, which is a decentralized global network of banks and payment providers. This global network uses Ripple's technology to send instant and low cost payment services to customers. The San Francisco based network has over 100 banks and financial institutions under RippleNet and claims that its blockchain technology can currently process 1000 transactions per second.
UAE Exchange claims to have a 6.75% share of the $575 billion global remittance market. UAE Exchange reports that they hope to expand to the point where they would eventually have a 10% share.
The deal with the UAE Exchange is also very important with Ripple as the cryptocurrency creator has suffered recently. The problems of Ripple stem from an analysis done by the New York Times on how many businesses are actually using the XRP.
The results were not favorable to Ripple and their stock plummeted from $3.65 to $0.85 rapidly. However experts do believe that once the details of the deal with UAE Exchange become clearer the prices of Ripple's stock will rise quickly.