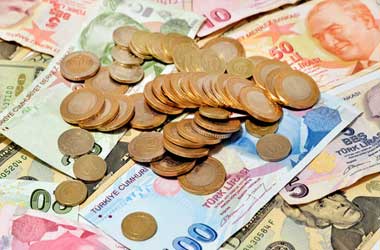 Turkish lira hit a historical low of 7.80 against the US dollar Wednesday as worldwide economic recession triggered by the Covid-19 pandemic reflected lack of strength in Turkish economy. Rising inflation, widening current account deficit and measures taken by government to offer low cost credit facilities to support the economy devastated by virus aggravated concerns about the government's ability to back the currency.
The jobless rate inched upwards to 12.9% in May, from 12.8% in the comparable period last year, against the backdrop of Covid-19 outbreak. While the number of unemployed individuals fell by 331,000 to 3.826 million, employment dropped by 2.41 million to 25.858 million, with employment losses recorded primarily in services and agriculture sector. The labor force participation rate fell to 47.6%, from 52.9% in the similar period of 2019. On the contrary, unemployment rate in youth aged between 15 and 24 years rose to 24.90% from 23.3% in May 2019.
Turkey's gross Forex reserves declined to $46.67 billion in July, from $50.93 billion in the earlier week, as per CBRT's weekly money and banking report. The reported Forex reserves is the lowest since November 2005, as the state and central banks have been upping measures to back a declining lira. In the meantime, the net global reserves fell to $26.48 billion.
Producer prices jumped 8.33% y-o-y in July, expedition from a 6.17% increase in the earlier month. It was the largest producer inflation since March. Prices increased at a faster rate in all sectors. Electricity and gas posted 12.69% increase in producer prices in July, compared with 9.40% in June. Similarly, water supply recorded a growth of 12.06%, from 7.30% last month. Mining & quarrying recorded 8.94% in July, from 4.19% in the earlier month. Even manufacturing rose by 7.95%, following a 5.99% in June. On m-o-m basis, producer prices edged up by 1.02%, following a 0.69% rise in the prior month.
The country's consumer price inflation slowed down to 11.76% y-o-y in June, from a 10-month peak of 12.62% in May and lower than economists' estimates of 12.1% as the economy continued to rebound from the Covid-19 sparked lockdown. Food & non-alcoholic beverages posted slower rate of increase in prices of 12.73%, compared with 12.93% last month. Transportation prices increased 8.81%, following a 10.96% in May. Housing & utilities costs rose by 12.53% in June, compared with 14.95% in the earlier month. Hotels, cafes & restaurant prices grew 10.92%, following an increase of 11.13% in the prior month. Alcoholic beverages & tobacco recorded robust increase in prices of 21.78%, compared with 22.41% in the previous month.