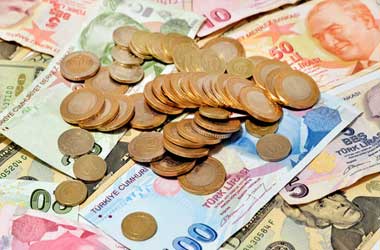 The Turkish lira strengthened to 7.20 per US dollar after the central bank of Turkey (Türkiye Cumhuriyet Merkez Bankası, TCMB) upwardly revised interest rates by 200 basis points to restrict inflation, while economists had projected only a 100 basis points hike.
The recent CPI report indicated annual inflation rate of 15.6% in February, the strongest level since July 2019 and far higher than the central bank's target of 5%. From the time Naci Agbal reined as governor in November 2020, the benchmark rate has been raised by 875 basis points.
In the meanwhile, Turkish President Tayyip Erdogan has stated that the battle against inflation and fiscal prudence were the top priorities of economic reforms and that fundamental reforms are also a need of the day.
The Central Bank of Turkey upwardly revised its one-week repo rate by 2% to 19% on March 18, stunning analysts who anticipated only a rate hike of 1%. The decision pushed lending costs to the highest level since August 2019. Lawmakers chose strong monetary tightening to contain inflationary pressure, pricing pattern and mid-term inflation forecast linked with such developments.
The yearly inflation increased to 15.61% in February, from 14.97 in January, the highest level since July 2019. The policy tightening will continue until major indicator reflects a continued decline in inflation and price stability. The central bank is ready to consider additional monetary tightening, if necessary.
Turkish government recorded a budget surplus of TRY23.17 billion in February, compared with a deficit of TRY 7.36 billion in the comparable period last year. Aggregate expenses increased 3.1% to TRY 96.41 billion, while revenues soared 38.8% to TRY 119.58 billion. The basic balance, devoid of interest payments, indicated a surplus of TRY 35.93 billion in February.
The country recorded retail trade growth of 2% in January, following an upwardly amended increase of 1.6% in December. Sales of food, beverages & tobacco rose at a quicker rate of 12.3% in January, compared with an increase of 9.5% in December.
Automotive fuel recorded a decline of 5.8% in January, following a 0.3% drop in the prior month. In non-food category, textiles, clothing & footwear recorded a decrease of 21.4% in January, following a 18% drop in December. Medical goods & cosmetics posted a 2.5% drop in January, compared with a 1.9% decline in the earlier month. Notably, e-commerce trade surged 101.6% in January. On m-o-m basis, retail sales increased 0.3% in January, following a steep decline of 7% in December.
Industrial production also increased 11.4% y-o-y in January, following an upwardly amended 9.2% increase in December, and surpassed forecasts for a 8.5% increase. The data reflected the eighth successive month of strongest growth since 2018. The increase was led by 12.1% growth in manufacturing output and 15.4% expansion in mining and quarrying.
The jobless rate in Turkey decreased to 12.2% in January, from 12.6% in December. Non-agro unemployment rate also inched downwards to 14.2% in January, from 14.7% in the previous month. The count of unemployed declined by 1000 to 3.861 million, while the count of employed rose by 822,000 to 27.706 million.
Employment increased by 451,000 in services, while agriculture posted a rise of 366,000. Nevertheless, construction sector recorded a decline of 9,000. The labor force rose by 821 million to 31.567 million. In the meantime, the youth jobless rate for people in the age group of 15-24 years declined to 24.7% in January, from 25.4% in the previous month.