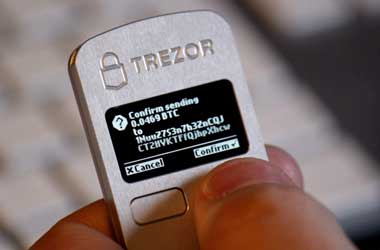 Crypto traders are always on the lookout for better ways to improve their security. This is mostly because they can be very susceptible to various types of hacking in the crypto world.
This is why Trezor's products are highly popular as they are robust and offer great security. However, they seem to be a victim of their own popularity as the company reports a proliferation of fake Trezor products.
Trezor hardware wallets have become quite popular because of how efficiently they work in securing a person's wallet.
A Trezor wallet is a single-purpose computer that stores private keys and allows for transactions without needing to actually expose them. Right now, there are two models available: the Trezor One and the Trezor Model T.
These wallets have become so popular that they have seen copycats proliferate the market. In the past, Trezor overlooked a lot of them because they thought it would be better for the crypto market. However, the company is now concerned as the market has recently been flooded with one-to-one fakes of Trezor products. Claiming to be the real deal, these fakes are aimed at stealing other people's money and tarnishing the Trezor brand. The trouble is that these fakes look so much like the original that it is hard to determine whether they are fake or not.
In a statement, Trezor said
You would not entrust your money to somebody who has already cheated you by selling you a different product than you thought you were buying. We, therefore, recommend not to use this device and report it to us, which would help us fight these scams and provide you with a legitimate device
Learn How To Distinguish The Fake
Trezor has given out a couple of pointers to help its customers figure out whether their wallet is fake or real. One of the most obvious indicators is that these fake wallets are offered at a very steep discount. Anyone hoping to buy a Trezor should be wary of anyone offering a 50 to 75 percent discount on their product, especially if the seller is not someone they trust.
The other method to detect a fake is to look at the holograms on the product. All Trezor products have a hologram sticker on their product boxes. Trezor has uploaded a copy of what the hologram should look like on their activation page. Trezor also warns about online marketplaces and sellers that are supposed to be selling official Trezor products. People who want official Trezor products should only buy from Amazon, the Trezor official website and authorized resellers.