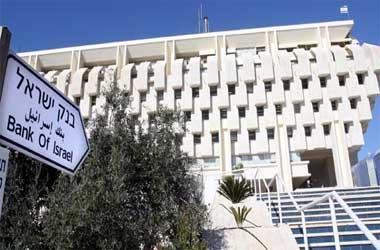 A new research study has revealed that every $100 million purchased by Israel's central bank between 2009 to 2015 resulted in a deprecation of 0.07–0.09 percent in the exchange rate.
The study which was conducted by Dr. Sigal Ribon from the Bank of Israel Research Department seeks to understand the impact of Bank of Israel's intervention in the foreign exchange market.
The Bank of Israel is said to be looking for ways to control the rising value of its currency – the shekel. It is currently trading at nearly its highest since 2014, which is hurting Israeli exporters.
Exports account for nearly a third of the country's gross domestic product. Reasons for the increase include acquisitions of local companies by foreign firms such as Mobileye by Intel Corp and decreasing oil or energy imports as a result of higher domestic natural gas production.
The Bank of Israel resumed active foreign exchange market intervention in 2008 after not taking action for nearly a decade. Initially the bank made its scheduled interventions.
Purchases were made of $25 million per day and later $100 million per day but in 2009 the central bank decided that it would intervene when needed and to whatever be the extent required.
According to the research report, between 2009 and 2015, all else remaining equal, for every $100 million that was purchased by the central bank a deprecation of 0.07–0.09 percent occurred in the exchange rate. The average monthly purchases made in the period amounted to $830 million and it is said to have resulted in an impact of 0.6 percent on the exchange rate during that month.
The research showed that both the actual intervention and the overall monetary policy influenced the currency movement. In a statement, Sigal Ribon said,
The intervention's impact derives as well from the signaling — by the intervention itself — regarding the Bank's overall monetary policy, and not just from the direct effect of the intervention on the asset market.
Other factors impacting the currency include the level of foreign exchange reserves vis-à- vis GDP and growth rate in exports. The lower the reserves, higher the intervention while an increase in exports cuts down intervention. Research also showed that the bank tends to intervene more when one-year inflation expectations are on the lower side.
The central bank has been criticized by some who feel that its current intervention policy hasn't had effect. Barry Topf, a former director of market operations at the Bank of Israel has suggested that dollar purchases be cut down to curb the shekel's rise.