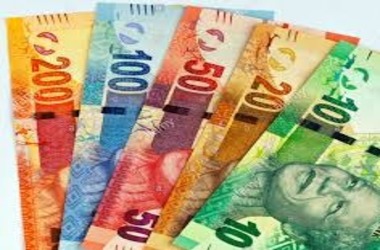 The South African rand recorded more than one week high of 16.40 against the greenback Friday, following news reports that President Cyril Ramaphosa will unveil the Mooiklof Mega Residential City tomorrow, the first government backed venture in its $139 billion infrastructure plan.
Investors are also happy that South African government is serious about cleaning the system by taking action in the form of arrests and prohibitions against members who are believed to be corrupt.
Even councilors are restrained from participating in meetings. On the international stage, investors are concerned about the outcome of the US Presidential election after President Donald Trump confirmed that he has been infected by coronavirus.
The country's Absa Manufacturing PMI increased to 58.30 in September, from 57.30 in the earlier month and greater than pre-pandemic February levels.
The reading reflected the fifth successive month of expansion in factory activity and at the fastest rate on record, as business activity and sales improved by further relaxation of lockdown prohibitions. Following a considerable drop in Covid-19 cases, the country's lockdown restrictions have been brought down to level 1 on September 21.
Furthermore, South Africa's trade surplus increased to ZAR 38.90 billion in August, from a downwardly amended ZAR 37.20 billion in the earlier month. The reported trade surplus reflected the second largest monthly trade surplus on record, aided by additional easing of Covid-19 prohibitions. While exports increased 6.6% m-o-m to ZAR 130.20 billion, led by 36% increase in shipments of precious metals & stones.
Vehicles & transport equipment posted 7% growth. Mineral products recorded 3% increase. In the meantime, imports rose 7.4% to ZAR 91.40 billion, driven by a 105% increase in buying of precious metals & stones, and 45% increase in purchasing of original equipment parts.
Similarly, vegetable products purchase increased 32%, while textile buying rose by 24%. In the first eight months of the year, the country's trade surplus was ZAR 134 billion, compared with a deficit of ZAR 4.10 billion in the similar period last year as exports increased 0.4%, while imports decreased 15.9%.
Most importantly, the country's unemployment rate declined to 23.3% in 2Q20, from 30.1% in the earlier period and mirrored the lowest unemployment rate since 2Q2009 as the country's stringent lockdown disrupted man power with lesser number of people actively looking for job opportunities.
Accordingly, labor force declined by 5 million to 18.40 million and the number of jobless dropped by 2.80 million to 4.30 million. In the meanwhile, employment decreased by 2.20 million to 14.10 million, the highest since the survey was started in 2008.
Overall, employment declined across all the 10 industries, with the largest decline of 515,000 recorded in community and social services. Trade sector lost 373,000 while finance industry saw layoffs to the tune of 283,000. Construction industry and manufacturing industry lost 278,000 and 250,000 jobs.